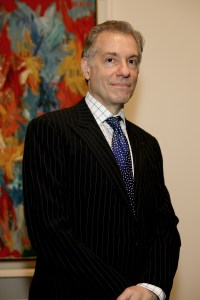 Gary Tinterow, the former chair of the Metropolitan Museum of Art's 19th-century, modern and contemporary art department who resigned last year to head the Museum of Fine Arts, Houston, has been named to France's Order of Arts and Letters.
Serving almost 30 years at the Met, Mr. Tinterow organized a formidable number of critically acclaimed exhibitions that focused on and included French artists, from "Portrait by Ingres" to the wildly popular survey show "Origins of Impressionism" and "The Private Collection of Edgar Degas."
"In his career, Gary Tinterow has stood in the middle of the Atlantic," French culture counselor told the Houston CultureMap, "curating not only exhibitions, but creating conversations between France and America. … [W]e are incredibly excited to have such a friend of France in Texas"
Mr. Tinterow was named a chevalier of the order in 2003. The highest rank in the order, commanduer, is now one step away for Mr. Tinterow, a position held by the likes of Bob Dylan and Patti Smith.
Last week, the Met named Tate Modern curator Sheena Wagstaff to head the museum's modern and contemporary department.