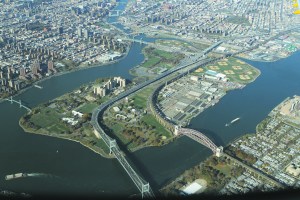 With its New York debut just a bit more than three months away, the Frieze Art Fair announced the artist projects that will form a "temporary pop-up village" on Randall's Island during the fair in May.
Here is the list, via e-flux, in alphabetical order: John Ahearn, Uri Aran, Latifa Echakhch, Joel Kyack, Rick Moody, Virginia Overton, Tim Rollins and K.O.S. and Ulla von Brandenburg. The eight artists were picked by Cecilia Alemani, the High Line curator who is running the fair's public projects and programs.
Gallerist will reserve judgment until seeing the village, but count us excited: some of the artists have had solo displays in New York only infrequently of late—like John Ahearn, who makes realistic wall-relief portraits with plaster and acrylic, or Latifa Echakhch, whose only one-person show in the city was at the Swiss Institute, in 2009—or not at all, like German artist Ulla von Brandenburg.
Ms. Alemani appears to have shown some love to the nearby borough of the Bronx by picking Mr. Ahearn—who was closely associated with the now-defunct alternative space Fashion Moda, in the South Bronx—and Tim Rollins, whose K.O.S. (that's "Kids of Survival") group has long been comprised of artists from South Bronx public schools.
Those looking for a taste of the projects before the fair opens to the public on May 4 can head to Gavin Brown's Enterprise, in the far West Village, where Mr. Aran currently has a deliriously jam-packed exhibition that is filled with scrappy wooden tables and chocolate-chip cookies.