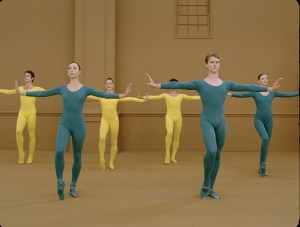 A quick glance over Israeli artist Elad Lassry's work of the past few years suggests that dance has become more than a passing fascination for him. In a short film included in the Museum of Modern Art's 2010 "New Photography" show, Mr. Lassry cast actor Eric Stoltz as a choreographer, and his contribution to the Venice Biennale this summer was a mysterious, haunting film of dancers, including a translucent woman, silently, steadfastly performing.
Now Gallerist hears that Mr. Lassry—who is perhaps best known for photographic work that combines found imagery and the feel of glossy, deadpan commercial photography, which he often places in brilliantly colored frames—is set to venture into the realm of live dance, working with dancers from the New York City Ballet for a special performance that is tied to his upcoming exhibition in March at the David Kordansky Gallery in Los Angeles.
The artist's choreographic premiere, a rep at the gallery tells us, is set to occur at the city's Hayworth Theater on Friday, March 2.
Those who are unable to make it out to the City of Angels for the performance, take heart! Mr. Lassry is also at work on a commissioned work for The Kitchen in Chelsea, which will debut in the fall. No official date has been set for that performance, but it will once again involve the New York City Ballet, and may include as many as nine dancers.
Meanwhile, beyond his L.A. projects, Mr. Lassry, who shows with Luhring Augustine Gallery, in New York, is looking at a rather action-packed year, with exhibitions scheduled for the Fondazione Galleria Civica, in Trento, Italy, the Kunstnernes Hus, in Oslo, Norway, and the Rat Hole Gallery in Tokyo.
The news of Mr. Lassry's latest endeavors comes at the end of a remarkable year for dance in the contemporary art world, providing some of the past seasons' best moments: painter Will Cotton choreographing a cotton-candy-themed ballet for Performa (New York's performance art biennial, which was filled with art-dance crossovers) with music by John Zorn, and veteran choreographer Trisha Brown bringing her company to the High Line and the Museum of Modern Art. (California artist Sharon Lockhart also just unveiled new films based on the dances of Israeli choreographer Noa Eshkol at the Israel Museum, and though we have yet to see them, they sound delectable.)
Let's hope Mr. Lassry can keep the trend going.