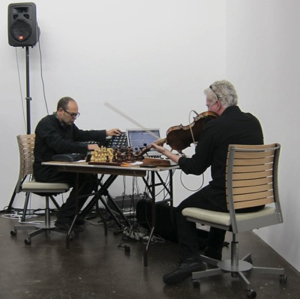 Walking through the doors of Maccarone two Tuesdays ago for the opening of Argentinian artist David Lamelas's new show, Gallerist was suddenly blinded by a film projector running without film. After dodging out of the beam, and recovering our vision, we noticed another running behind it, casting a small square of light on the opposite wall.
Mr. Lamelas is well known for another light installation, albeit one considerably more tranquil: 1967's Limits of Projection 1, a single cone of light projected from the ceiling in a dark room, which appeared last year at MoMA P.S.1 in Peter Eleey's "Talent Show" exhibition.
Light—or perhaps more accurately, "lightness"—pervaded Mr. Lamelas's new show, which—those projectors aside—consisted almost exclusively of simple but perceptually transformative architectural adjustments.
Four corners of the front gallery are occupied by geometric variations on David's 1966 Corner Piece: an upside-down, white, drywall pyramid, which juts outward from the corner of a white room. In the back gallery, two long, white partitions slice the space in half, creating the sense that Maccarone's cement column and ceiling braces have spun slightly on their axes.
Throughout the opening, rotating crowds of about 15 narrowly squeezed into a triangular corner behind one of these partitions to view an ongoing sound performance.
Two black-clad musicians, Jorge Chikiar and John King, hunched over synthesizers at a small table—Mr. Chikiar working on an electric keyboard and Mr. King wielding a laptop and electric viola.  Each would turn a knob, press a key, stroke a touchpad, to produce a strand of ethereal rings, low bass drones and wet sounds. The metallic ringing moaned gently at moments, like white noise, and then grew in scale, becoming monstrously loud.
Between the musicians was a chessboard, hence the Duchamp reference in the title printed on Maccarone's front window: New York City N'existe Pas (After Marcel Duchamp).
After several minutes of selective draws on his electric viola, musician John King moved a piece, stood up and left the room.  Several minutes later, while the sound continued, we encountered the other musician, Mr. Chikiar, in the front room, where he was wandering aimlessly, like the rest of the visitors.
"The music is in real time, like a dialogue," Mr. Chikiar told us, over the humming from the other room. This seemed true: in its murmuring rise and fall, and its casual breaking-off moments, it perfectly mirrored the flow of banter that filled the space.
But what does this have to do with Mr. Lamelas's spare installation?  An Argentinean who has been a constant international traveller since the age of 21, he frequently offers an outsider's view—and a breakdown of—systems of communication: conventional narrative, art objects and temporal constraints. "For years, I have been working with the idea of altering the function of architecture and sound," the weathered artist told us. "Even if there are no musicians, there is the sound of people walking and talking…empty space is full of sound."
Mr. Lamelas, in his mid-sixties, projected an air of genuine wonder, as though he, too, were completely new to the installation. Moving through the space, wearing a casual button-down, plastic cup of wine in hand, he appeared utterly unburdened. Quite unusual for an artist debuting his first New York show in four years.
When we asked how much he had directed the performance, Mr. Lamelas replied that he had given the musicians total freedom. "I like it when it becomes its own," he said, and then laughed. "It's like I'm at some one else's opening!"