A year into owning the Starrett-Lehigh Building, RXR Realty is making what at first appeared a dicey gamble into an investment that looks closer to a sure thing.
RXR, led by its chief executive Scott Rechler, acquired the 2.3 million-square-foot far West Side office building last year for a whopping $900 million, a purchase price that equated to almost $400 per square foot. Though buildings in Midtown have traded for double that or more on a per square foot basis in recent months, the sheer magnitude of the investment turned heads as a jumbo-sized commitment in a neighborhood that many brokers and tenants still consider off the beaten path.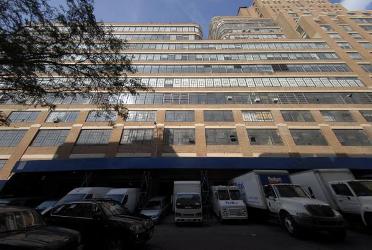 In recent months however, a series of leasing transactions in the building has put the prominence of its roster of tenants, not to mention the affection they have for the property, on ample display.
Mr. Rechler said that he began to grasp how tenants saw the property as a core component of their culture and identity when his firm was bidding on it last year. He gained the insight while interviewing a principal at the architecture firm the Bjarke Ingels Group, which has space in the property, and came away determined to win.
"I met with him and asked him why? Why Starrett?" Mr. Rechler recalled. "The tenants in the building have made the decision to be here all by themselves and I wanted to know why. And he answered me, 'what other building could I go to?'"
More recently, firms like Tommy Hilfiger and the advertising firm Dentsu McGarryBowen have expanded significantly in the property. Tommy Hilfiger grew by 45,000 square feet in the property last May. Then, at the start of 2011, the company, which is one of the Starrett-Lehigh Building's largest tenants, took another 21,000 square feet. At the same time, Dentsu expanded by 47,000 square feet. Dentsu now occupies about 170,000 square feet in the building and Tommy Hilfiger has 350,000 square feet.
What has surprised Mr. Rechler is the way the bustling activity has taken place even before RXR has had a chance to undertake a substantial renovation of the property. Mr. Rechler said that the company is planning to invest more than $50 million to upgrade its lobby, common spaces and other facilities. He also has plans to create amenities that will help the building continue to attract the kind of creative tenants it caters to.
"We're planning to launch a bike valet for tenants who ride bicycles to work as well as a dog valet for those who want to bring their pet," Mr. Rechler said. "We spent the first 90 days of ownership interviewing over 100 people in the building and the surrounding neighborhood and designed the repositioning plan to create a place that will be attractive to them and the other tenants that want to live and work in this area."