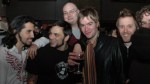 Two of Gawker Media's more niche titles are getting a change-up.
Brian Crecente— the longtime editor of the company's video game site Kotaku, and one of the longest-serving site-leads in the history of the company—is out. Mr. Crecente has been with the company for seven years.
He notes in a post today:
Much has changed from when I started more than seven years ago at Kotaku, two months after its launch. The site was an unknown, an unpronounceable off-shoot of Gawker Media with a readership of 10,000. I was a full-time newspaper reporter, spending those early days covering gaming for Kotakuand my afternoons and evenings writing about homicides, serial killers, gang-bangersand raging wildfires for the Rocky Mountain News.

Over the years, Kotaku's community grew to more than five and a half million readers.
Stephen Totilo, Kotaku's managing editor, will be promoted to Mr. Crecente's old job.
Meanwhile, Joel Johnson—previously placed over Mr. Crecente as Kotaku's editorial director, which was prior to a number of stints around the network, including the editor-at-large of Gizmodo and one as the founding editor of The Consumerist (back when it was still a Gawker Media holding)—is now going to be an editor-at-large for the blog network's auto fetishist site, Jalopnik.
Ray Wert, the site's editor, emailed to explain:
"Joel'll be bringing over his talent for feature and review development. In the new role, he'll be mixing his love of motoring with his love for gadgets and video games to help us build the next generation of auto enthusiasts."
Ideally, one would imagine, this building of enthusiasts will not involve publicly noting Jalopnik's readers as "very stupid." As he once did with Gizmodo's.
We've also heard from multiple sources that Mr. Johnson was a leading candidate for another job that almost poached former Deadspin editor A.J. Daulerio before he decamped to the top spot at Gawker.com, the editor gig over at ANIMAL NY.
A source explained that Mr. Johnson turned down the prospect in favor of his new role at the company, which includes working on "special projects" for the blog network (to which we might add, that's what Oppenheimer said).
Mr. Johnson responded, confirming his role in the "special projects" without giving away any specfics:
Bucky [Turco, Animal NY founder] is a pal and I've talked to them about their plans for Animal, but I actually made [Gawker Media publisher Nick Denton] a promise I'd stick around for a full year when I came back, so I'm not making any decisions about anything in life until March. (And I may actually stick around Gawker another year? Who knows.) This is actually the one time when Gawker put someone on "special projects" that doesn't mean being put out to pasture.
Cheery! Also, emphasis ours. Know any more about Gawker Media's special projects? We'd love to hear it.
fkamer@observer.com | @weareyourfek