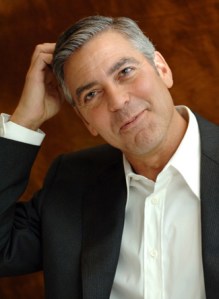 George Clooney is making a new film called The Monuments Men about Nazis who steal art. Mr. Clooney will direct and star in the film. The screenplay is in the works right now and will follow a group of art experts just after the end of World War II hunting down Nazi-looted artwork.
According to E Online, "Clooney also said Hitler will not appear in the film. 'Who wants to see Hitler?' he said. 'And who really wants to play Hitler?'"
Well, then. Sorry to dash the hopes and dreams of those of you who heard "George Clooney Nazi art thief film" and immediately thought of Mr. Clooney all dolled up and looking like Hitler.