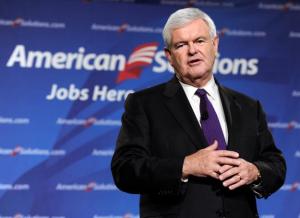 Republican presidential candidate Newt Gingrich is having a tough enough time with front-runner Mitt Romney surging in the polls prior to the upcoming Florida primary. Now he may also have to contend with pesky questions about a government probe into the overseas business affairs of Las Vegas billionaire Sheldon Adelson, who may be the financial savior of  Mr. Gingrich's campaign.
Mr. Adelson's Las Vegas Sands Corporation has been under federal investigation since early 2011 by the Department of Justice and the Securities Exchange Commission for possible violations of the Foreign Corrupt Practices Act (FCPA). ABC News reports that corporate documents contain allegations of bribing officials on the Chinese island of Macau.
A separate civil suit filed in Nevada in 2010 alleges Mr. Adelson ordered Steven Jacobs, the former C.E.O. of Las Vegas Sands Corp's Chinese affiliate, to stay quiet about alleged entanglements "with Chinese organized crime groups, known as Triads." Mr. Jacobs's suit characterized Adelson's demands as "repeated and outrageous." Mr. Jacobs also claimed Mr. Adelson wanted him to essentially manipulate Macau officials to assist company business interests in the region.
Mr. Adelson, a long-time backer of conservative causes and Republican candidates, has given as much as $10 million to "Winning Our Future," a Super PAC supporting Gingrich's presidential campaign.
Mr. Adelson has appeared unruffled by the investigation, stating publicly that the lawsuit was "not a serious case" and he was "1,000 percent positive" that once the smoke has cleared "there won't be any fire below it." He also told the Wall Street Journal that Mr. Jacobs was "fired for cause" and the ex-CEO's charges are "outright lies an fabrications" originating "in delusion."
The Gingrich campaign didn't respond ABC's requests for comment on the story.
[ABC]