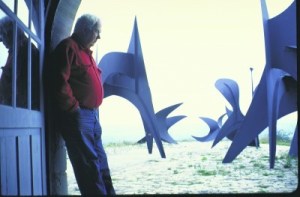 Alexander Calder, the Pennsylvania-born sculptor who died in 1976, is, it's safe to say, one of New York's, and the world's, better known artists. One of his famous abstract mobiles turns meditatively near the high ceiling in Terminal 4 at JFK, a balm to weary travelers. A signature stabile sculpture is parked in front of Lincoln Center. And the piece of his that is likely most revered by children, his circus made from tiny puppets constructed out of humble materials like wire, cork and string, just went back on view at the Whitney Museum, complete with a film of the artist manipulating the dolls into action. So, there's Calder the quintessential modern artist, Calder the public artist, Calder the charming circus puppet master. But there is another Calder that the artist's grandson, Sandy Rower, head of the Calder Foundation, wants you to see. Mr. Rower is intent on Calder the artist whose work is not only historically important but also conversant with and an influence on art being made today.
On a rainy Tuesday evening early last month, The Observer rode an elevator to the top of a nondescript office building in Chelsea, just a few feet from the local Whole Foods market. When the doors opened, we were standing on the roof, and a man directed us toward an open door through which was visible a white, brightly lit space, the brand-new Calder Foundation project space.
Inside, there were a handful of Calder's sculptures—intricate, elegant, wildly abstract mobiles spinning slowly from the ceiling, not far from a few sharp-edged metal stabiles. Every piece was black. Waiters handed Champagne and hors d'oeuvres to the few dozen guests, who included a band of visitors from the nearby gallery district.
There were dealers—Pace Gallery president Marc Glimcher, Andrew Kreps and Tina Kim. Whitney Museum director Adam Weinberg was there, as was Lithuanian artist Zilvinas Kempinas and collector Jane Holzer—known as Baby Jane in the Warhol days—plus writers from Artforum and Artinfo.
Mr. Rower circulated gracefully among them, pausing to shake hands and pose for photos. At art fairs and biennials the world over—he's a regular on the contemporary art world's global circuit—he is identifiable as a walking advertisement for his grandfather's work, since he is almost invariably wearing a necklace of Calder's design, and on this night, his white shirt was unbuttoned to reveal a dramatic, looping design made from interlocking spirals of metal.
"That was really just a way of presenting the space, just to give a sense of it," he told The Observer, when asked about the exhibition by phone a few weeks later. "I wanted to just bring his work, just black work, into the space."
The 4,000-square-foot space is on the floor above the foundation's offices, and though it is open only by appointment, it represents a major development in the work of the organization that Mr. Rower, who is in his late 40s, started in 1987, about 11 years after Calder's death, to compile a catalogue raisonné, a complete record of the artist's work. Since then, the foundation's scope has become increasingly ambitious.
"We're kind of moving into a new phase in the foundation, which is Calder's relationship to the 21st century," Mr. Rower told us. This means programs with young artists. During the Performa biennial in November, for instance, the foundation hosted a piece by emerging French artist Lili Reynaud-Dewar.
Since 2005, the foundation has also awarded a $50,000 Calder Prize to a living artist, which includes a six-month residency at Atelier Calder, the artist's former studio in Saché, France. The residency program began more than 20 years ago, and has counted Martin Puryear, Ernesto Neto, Rachel Harrison and Mr. Kempinas among its participants.
"One of the reasons I started the foundation," Rower told us, "was that I was so frustrated that people could not pierce the veil of color and form and motion. Maybe the best aspect of Calder they could get was as a poet—his poetic genius. They couldn't get deeper into the meaning of his work, and that really frustrated me that people could see contemporary artists like Turrell and Serra as intellectual geniuses, and they didn't respect my grandfather even more so."
In effect, through programs like the Calder Prize and its new project space, the foundation lobbies for the continued relevance of Calder's work, and keeps the artist in the public eye, while defending his legacy. Central to this mission is the foundation's role in loaning works to exhibitions from a collection of more than 450 sculptures and 35 large outdoor pieces.
"The foundation is charged with a giant collection, some of which it owns and some of which it doesn't own," Mr. Rower told us. "Works owned by my family or family trusts are all available to the foundation for the use of the foundation's programming." What is sometimes referred to as the Calder estate is in fact the collection of family members who own pieces by the artist.
The largest museum holdings of works by Calder are in the National Gallery in Washington, MoMA, the Whitney, the Guggenheim and the Pompidou. The foundation's holdings, Mr. Rower says, are much larger than all five of those major collections combined. A foundation tax form filed in the final quarter of 2010, the most recent return that is publicly available, lists art with a fair-market value of $133.2 million, and that represents only a fraction of the total collection that the foundation actually has on its books, most of which was donated by family members.
Occasionally, the foundation sells work. In 2009, it parted with Calder's 1975 standing mobile La Douche ("The Shower") through Pace (then PaceWildenstein) at the Abu Dhabi Art Fair, for about $7 million. At the time, it was widely reported that the emirate's rulers were shopping for the museums they are currently building, outposts of the Guggenheim and the Louvre.
When La Douche was donated to the foundation, two years earlier, by Calder grandson Holton Rower, daughter Sandra Calder Davidson, granddaughter Andréa Davidson and grandson Shawn Davidson, who are all trustees, it was valued at just $2.8 million.
The foundation's efforts to keep Calder in the spotlight, and keep him relevant, is likely contributing to a strong market for the artist. Seven of the artist's top 10 auction results have come in the past five years, according to the Artnet database, and an artist record was set in 2010, when the 16-foot-tall Red curlicue (1973) sold for $6.4 million at Christie's New York. (It was also probably not an accident that, when Vogue magazine visited Gagosian, the world's most powerful gallery, to photograph a group of its female employees for an article, a gigantic Calder mobile could be seen above them.)
"The weight of acceleration behind Calder is faster than any other artist," said Mr. Glimcher, who has worked with Mr. Rower for decades. (In November, the gallery mounted the exhibition "Calder 1941," which included works from the foundation.) In his view, the artist is still undervalued, the easy popularity of his work still overshadowing his achievements. Until 1999, no Calder had ever sold at auction for more than $2 million, and even large outdoor works only rarely made more than $1 million. In recent years works are known to have sold privately for more than $15 million.
"We buy many more things than we sell," Mr. Rower told us, speaking of the estate. "We collect a lot of work, and sometimes we sell things, but we're much more actively buying." His main concern, he said, is putting his grandfather's work into circulation.
"I've been very, very successful in persuading people to lend us their works, either for a few months for an exhibition or on permanent deposit if they are not being displayed in their own homes," Mr. Rower said, "and we put them into active use, active display."
When the Calder Foundation arranges loans, it often charges a consultation fee, which helps to fund the organization, whose annual budget is about $1.3 million a year. "I don't know any other foundation that is set up the way we are," Mr. Rower said. "We work very efficiently." And, he underscored, the artworks' owners cover the costs for maintenance and repair for the works.
Should the Calder Foundation be donating the works it loans to museums? "We take better care of them than anyone else would, so it makes more sense for us to hold them and then lend them freely," Mr. Rower told us, when we asked. "A lot of people do ask my opinion, when they are considering donating works to institutions. I know all of the institutional collectors. I know what they have, what makes sense to fill a gap, who would appreciate it more than another."
If the Calder Foundation, or any artist foundation—that of the minimalist Donald Judd, the newly opened Clyfford Still Museum or the Dedalus, which supports Robert Motherwell's legacy—does its job well, that artist's stature will rise, and prices, theoretically, will follow. Being associated with the foundation, having one's works in the pool of available art, could increase their value.
"There have been some people who own, say, one Calder, very modest collectors, who have tried at dinner parties to get me to borrow their works, believing that it would increase in value, that kind of thing," Mr. Rower told us. "And I say, well, I'm not interested in that particular work, or I would love to borrow that work because it's a very important. That's the criteria: the importance of the work."
One could argue that, 30 years after the death of Alexander Calder, his heirs and his namesake foundation are just beginning to hit their stride. Which leads to the question of the end game of any artist foundation: how long can a foundation thrive, and how big can one grow?
Various plans for a Calder museum have circulated for years. As mayor of Philadelphia, where Calder was born in 1898, Ed Rendell proposed a building in the late 1990s, but plans were eventually scrapped after government officials and family members failed to agree on details. Mr. Rower also made a bid for Edward Durell Stone's 2 Columbus Circle, along with developer Donald Trump.
"I tried very hard to buy 2 Columbus Circle from the city," Mr. Rower told us. "Trump said, 'I'm going to build a little boutique hotel,' and we said, 'We'll build a cultural destination for the city.' … Giuliani decided … to not decide. He left it vacant." The Museum of Arts and Design acquired the building in 2005.
So, will there eventually be a Calder Museum? "I like the idea," Mr. Rower said. "I like the idea of a hometown museum in Philadelphia. It's a nice idea. If it were my project, if I was putting my own money into it, I would put it in New York or in Paris, which are Calder's two most productive, central places. That makes more sense to me." He paused. "Doesn't that make more sense?"
For now, though, Mr. Rower has plenty of other projects in the works. There are more shows to work on, a collaboration with the Beyeler Foundation, in Basel, Switzerland, and he is conceiving of an American residency program at Calder's former studio in Roxbury, Conn., which he owns with his brother, Holton Rower.
"The Connecticut program, I think, can be a lot looser," he said excitedly. The French one is open only to visual artists. "We can have a filmmaker, a choreographer and a magician, along with a photographer and a painter."
Mr. Rower added, "We have amassed more than 100 acres around the property to protect it." He and his brother have plans for what they are going to call Calder Farm, a "hyperorganic" farm for which they've hired a farmer named Eero Ruuttila. The food, he says, will come to New York and feed the staff of the Calder Foundation.
What will the foundation look like in 50 years? "The Connecticut property is going to come to the foundation," he said. "People will be able to go visit the studio, visit the farm, and maybe visit the artists. I even have a long-term plan of having a retirement community there, where people can live and give back. I think that would be great."
arusseth@observer.com