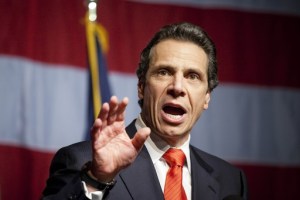 In his appearance on Fred Dicker's radio show today, Governor Andrew Cuomo addressed the controversy over teacher evaluations. Last week, State Education Commissioner John B. King announced suspended millions of dollars in funding from schools in the five boroughs and nine other districts around New York that missed a deadline to agree on plans for teacher evaluation programs. Governor Cuomo, who called for an education commission to come up with an evaluation plan in his State of the State address last week, described the situation with as a "major crisis for the state." Though he doesn't plan on personally getting involved in the tense negotiations on evaluations going on between local school districts and teacher's unions, Governor Cuomo said something has to give.
"This situation is not going away, we need the evaluations done because it's how we improve education. Second, we need an evaluation system, because it was the condition of the federal funding and it's not going to get better," Governor Cuomo said.
Establishing teacher evaluation programs was a condition of the $700 million in "Race to the Top" education education funding New York received from the federal government. In order to qualify for the funding, Governor Cuomo passed a state law requiring teacher evaluations in 2010. Teacher's unions have successfully challenged that law in court arguing that it places too much emphasis in a teacher's evaluation on student performance. Governor Cuomo admitted to Mr. Dicker that the current law on evaluations has proven to be "a failure."
"Every state that wanted to qualify had to pass a teacher evaluation law, we did as part of the 'Race to the Top,'" Governor Cuomo said. "The law has been a failure, it has not been implemented. It is unworkable, some would say it was unworkable by design ab initio, but time has shown that it's unworkable."
Teacher's unions have also battled other plans for evaluation in local districts. In New York City, Mayor Michael Bloomberg has clashed with the United Federation of Teachers because they want an independent commission to come up with an evaluation policy while he wants principals to have control over the process. In a radio appearance of his own Friday, Assembly Speaker Sheldon Silver said the governor should help "intercede and try to bring the parties together." Governor Cuomo rejected the idea that he should step in to the negotiations in the five boroughs or anywhere else in the state.
"I'm not going to get between Mayor Bloomberg and the UFT. There are roughly 700 school districts in this state, the answer isn't, 'The governor should intervene between the local political official, or the school board and the union,'" Governor Cuomo said. "I can't negotiate 700 union contracts, that's not going to be the answer here."