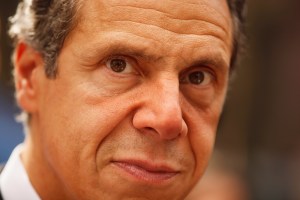 In his annual State of the State address today, Governor Cuomo outlined his ambitious vision for the future New York State including sweeping campaign finance reform, massive construction projects, an entirely new neighborhood built from scratch on the West Side of Manhattan, legalized casinos and a slew of new social programs. Governor Cuomo described his strategy for 2012 as an effort to build on a first year in office where he changed the culture of Albany from partisanship to constructive cooperation.
"By all accounts, last year was a tremendous success. There are many reasons why, including one simple one: We changed our attitude," Governor Cuomo said. "By the end of the year, we were not first Democrats and Republicans, we were first New Yorkers and we acted that way. We put the politics aside and put the people first. And it worked. And we worked. We delivered for the people. … Today, I am telling you this: we are going to reach even higher"
Governor Cuomo said his goals for next year fall into three main categories; growing the state economy, launching programs designed to maintain New York's status as "the progressive capital of the nation" and creating a "re-imagined government" through reforms designed to reduce costs and corruption.
The centerpiece of the governor's plans for making over state government is a set of broad campaign finance reforms including a statewide program of public financing for elections modeled after New York City's system, tighter limits on political donations, stricter regulation on contributions from public contractors and lobbyists and the creation of an enforcement unit in the State Board of Elections that will be tasked with investigating violations of campaign finance regulations.
"These and other reforms to our campaign finance laws are necessary to empower New Yorkers by giving them an equal voice in our elections," Governor Cuomo said.
Governor Cuomo also wants to enact mandate relief and pension reform.
"By next year,pension costs for schools and state and local governments will have increased 100 percent since 2009. We need to reform the pension system and create a Tier VI," said Governor Cuomo.
On the economic front, Governor Cuomo hopes to bring revenue to the state through a series of large-scale construction projects created through public/private partnerships including a new Tappan Zee Bridge and "the largest convention center in the nation." Governor Cuomo said his office is pursuing a joint venture with a gaming company called the Genting Corporation to build this convention center at the Aqueduct Racetrack and raze the Jacob Javits Convention Center in Manhattan. Governor Cuomo said the site of the Javits Center could then be used to create an entirely new Manhattan neighborhood.
"We will follow the highly successful Battery Park City model, which has resulted in housing, hotels, museums, and over 10 million square feet of Class A office space," Governor Cuomo said. "We estimate over $2 billion in private sector development in creating a new 21st century neighborhood for the West Side."
The governor also reiterated his desire to revoke the state ban on commercial gaming and bring casinos to New York.
"When it comes to gaming, we have been in a state of denial. It's time we confronted reality. It's not a question of whether we should have gaming in New York — the fact is we already do," said Governor Cuomo referencing the state's abundance of electronic gaming machines, Indian casinos, racinos and the legal casinos in nearby states and Canada.
Governor Cuomo also wants to give the economy a boost by investing over a billion dollars in public funds to local governments including $200 million in regional economic development awards and $1 billion in development incentives for the city of Buffalo.
"While we build on our strength in New York City, we must also invest in the struggling areas of our state," Governor Cuomo said. "The State of New York is ready to invest $1 billion in a multi-year package of economic development incentives. That's a "B" — for $1 billion and for Buffalo."
Governor Cuomo said he expected the Buffalo investment to yield "$5 billion in new investment and economic activity." The governor also plans to invest state money to fund a series of infrastructure improvements and alternative energy initiatives.
Socially, the Governor said he wants to cement New York's status as America's "progressive capital" by launching programs designed to help farmers secure loans, aid immigrants transitioning to American life, double the number of minority and women-owned businesses that obtain state contracts, protect tenants from abusive landlords and foreclosures, ensure "reproductive rights" for women, and improve public education with $60 million in challenge grants to SUNY campuses.
Governor Cuomo also hopes to improve quality of life in New York by fundamentally changing the state's food stamp system and criminal DNA databank. With food stamps, the governor said he wants to "increase participation in the food stamp program" by removing "barriers to participation" including New York City's current practice of requiring applicants to submit to electronic fingerprinting. Governor Cuomo also promised to propose a bill that would expand the DNA databank to include samples from "any person convicted of a felony or Penal Law misdemeanor."
"This databank helps establish guilt and innocence; it has provided leads in over 2,700 convictions and — just as important — led to 27 exonerations of the wrongfully accused," Governor Cuomo said. "Currently, DNA is collected only from those convicted of less than half the crimes on the books in New York State."
Education will also be a major focus for the governor next year.
"I learned my most important lesson in my first year as Governor in the area of public education. I learned that everyone in public education has his or her own lobbyist. … The only group without a lobbyist? The students," Governor Cuomo said. "This year, I will take a second job— consider me the lobbyist for the students. I will wage a campaign to put students first, and to remind us that the purpose of public education is to help children grow, not to grow the public education bureaucracy."
Though he acknowledged his plan for 2012 is an "ambitious agenda," Governor Cuomo sounded confident he can make his vision a reality.
"We are the state of infinite possibility — because we are New York. There is nothing that we can't do when we are together. Because we are New York."