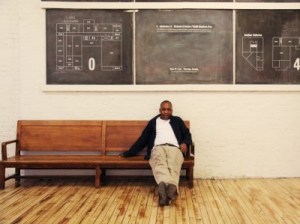 The weekend before the opening of his midcareer retrospective at MoMA PS1, which opens to the public this Sunday, the painter Henry Taylor was walking through the museum's first-floor galleries, inspecting the boxes that had just been shipped from his studio in Los Angeles. Some canvases were already leaning against the walls and others were sealed in bubble wrap. Some were still scattered around L.A. The month before, Mr. Taylor had gone to his daughter's mother's house there, where he had stored a number of pieces, only to discover they had been burned and destroyed (the circumstances are foggy). At PS1, he was walking through the show with Peter Eleey and Laura Hoptman, the exhibition's two curators, rattling off stories about his work.
"That's a guy who used to sleep on my porch," he said in his gravelly, cigarette-stained voice. "I still see him. I'd give him a buck every now and then. That's a girl I knew with lupus. That's my cousin. That's my friend who moved to Chicago. He used to always wear that big necklace. That's me," he said pointing to a large canvas of a man with his back turned, the top of his buttocks visible above the waist of his jeans, as he kneels before a large woman, "and that's my mom."
> Click to see images of Henry Taylor's art.
Mr. Taylor, 53, says painting, for him, is "like having a carton of milk in the fridge. It's just gonna happen." He'll paint whoever is around him, on whatever is around him. He's been a fixture in downtown L.A. since before his first solo show at Kathryn Brennan's Sister Gallery in 2004. People in the art scene there remember how he used to walk around to the galleries in Chinatown bringing along paintings he'd made on cigarette boxes, as well as stacks of notes and drawings. In the PS1 show is a suitcase he'd carry with him on these gallery rounds; on it he painted a Yeshiva boy, along with the words "Brother Brother" in Hebrew.
Everyone in L.A. got to know him. Joel Mesler, co-owner of Mr. Taylor's current New York gallery, Untitled, remembers meeting the artist on the street in L.A.'s Chinatown back in 2000. Mr. Taylor had just moved into a studio around the corner from Mr. Mesler's gallery, Pruess Press. He was standing on the sidewalk drinking Tecate and cooking two steaks on a grill. He offered one to Mr. Mesler.
He's steadily developed a reputation outside his hometown not only as a serious painter, but also as a compassionate, empathetic member of various communities. "He collects people," said Ms. Brennan, who has since closed Sister and opened a gallery in New York. "He's the pied piper of any city he's in." He's personable, anyway. During my interview with him he interrupted a question to ask me, with a friendly grin, "What would be an ideal year for you? If you can do anything you wanted to do for a fucking year, what would it be?"
Mr. Taylor conflates abstraction and realism in his work, giving it the feeling of bluntness (and mischief) found in someone like Alex Katz, but the way he hunts down his subjects transforms his practice into a process of earnest documentation. A number of superficial factors, however, have branded him an "outsider artist"—he's black, he grew up poor, he paints prostitutes and drug users, he is a seriously prolific curser, he had a 10-year stint working as a psychiatric nurse at a California state hospital, he didn't finish art school until he was in his 30s, and he didn't get his work shown in a gallery until a decade after that. Mr. Taylor and the people close to him admonish the label. ("Motherfuck," he said when I mentioned "outsider." "I say to hell with all that shit. Some Rauschenberg shit can look like outsider shit and vice versa. Fuck yeah, man.") But he's also an artist in demand. In addition to the show at PS1, which runs through the beginning of April, L.A.'s Blum & Poe gallery will be showing his work at the Art Show, the prestigious Upper East Side fair put on annually by the Art Dealers Association of America in early March. That month, Untitled will do a solo show in its space on the Lower East Side. If he was an outsider before, he now has to navigate his way through the mainstream.
I visited Mr. Taylor at the apartment he's renting in Queens while he prepares for his upcoming New York shows. He's a fast talker—in conversation he often seems like he's trying to get three stories out at once, jumping back and forth between details, interrupting himself frequently with a "motherfuck" or "You know what I mean?" (a question he almost invariably answers himself with a loud "You know what I mean!").
"He's spinning at his own pace," said Tim Blum, who most recently showed his work at Blum & Poe last March. "He strings together ideas rapid fire. Somehow it feels like that energy of thought and ideas he has when he's verbalizing things, he's able to have that energy flow through his hands when he's in his studio."