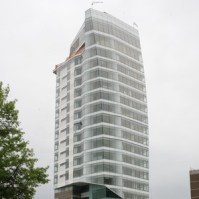 Andre Balazs is not known for his quietude, having developed hotels the world over famous for their parties and celebrities—the Standard Hollywood has naked people in the lobby, the Standard Manhattan has them the windows. So it is surprising to hear the hot hotelier tell Grub Street that the new Standard East Village, inside the old, alien-looking Cooper Square Hotel, will be more "residential, more quiet—more introspective, if you will."
Mr. Balazs also shared plans for his recent $90 million acquisition with The Wall Street Journal. Property manager Ironstate Development Co. and Mr. Balazs closed the deal for the Cooper Square Hotel last October.
This marks Mr. Balazs' third New York Standard, after the Meatpacking mainstay and the East End outpost he opened last summer.
Balazs plans to open by mid-fall with "an emphasis on public spaces" claiming that "good hotels are a center of their community." The lobby, restaurant, and ground floor are further being "re-imagined as public spaces." Balazs will also slash prices at the East Village location, according to The Journal, by having rooms that "start at about $190." That is about half the price of the Meatpacking District's Standard Queen for $385.
realestate@observer.com