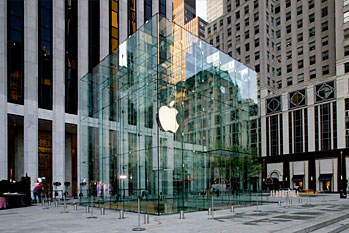 Brooklyn Borough President Marty Markowitz has been stamping his feet for years over his desire to land the holy grail of retailers: an Apple (AAPL) Store. After all, the M.T.A. bent over backwards to bringing a glowing Temple of Jobs into Grand Central. But it looks like Marty can forget about it, as Apple may be opening its next outer borough outlet in Queens County, not Kings County.
A developer in Forest Hills has told The Daily News he is in talks with Apple about opening a store in Queens.
Heskel Group Chairman Yeheskel Elias said if a deal is reached, the sleek store could open in as little as a year. It would be only the second Apple location in the city outside Manhattan. A Staten Island store opened in 2005.

"I will do anything I can to bring Apple in," Elias said. "Queens has to have an Apple store."

Apple spokeswoman Michaela Wilkinson said the company has "made no announcements" on new stores outside Manhattan.

But Elias said a broker for Apple reached out to him several months ago to discuss potential store locations in Forest Hills.
This could all be a ploy to simply make Mr. Elias' current retail developments look more appealing, but this also would not be the first time an Apple rumor turned out to be true.
Still, Queens is looking more and more tech savvy of late. With the creation of the Roosevelt Island tech campus, city officials are talking about transforming Long Island City into the city's second Silicon Alley. Not exactly Forest Hills—the Grand Central store would be closer—but could this quiet corner of New York become the new geeky gold coast.