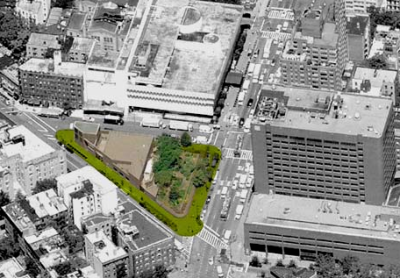 It's official—well, almost—the West Village will be getting an AIDS memorial. After opening the design competition in November, the AIDS Memorial Park received 475 entries from architects, designers and gardeners the world over. The winner will be announced next Monday, and will receive a $5,000 prize.
The timing is appropriate, given that yesterday Bill Rudin's development at St. Vincent's received unanimous approval by the City Planning Commission. Several of the commissioners made mention of the AIDS memorial, including Chair Amande Burden, and stressed their desire to see a memorial included.
Commissioner Maira Del Toro, who resides in Greenwich Village, explained the role AIDS has played in the community's history. "When AIDS affected our community in such disproportionate numbers, St. Vincent's was the refuge for those suffering. They never turned away a single AIDS patient," she said.
Ms. Burden all but commanded Mr. Rudin to include the memorial in his plans. "Given the past efforts of the applicant on this proposal, I am confident they will continue to work with the community in the future, including those interested in creating the AIDS memorial," she said.
Considering these land-use applications are mostly hashed out behind closed doors, it would not be unreasonable to imagine that an agreement had even been struck already. Do not be surprised if a big announcement is made to this effect in the next month or two, after the memorial has selected a winner and while the proposal is still being fought over at the City Council. It will look like a nice olive branch, one that will not cost the Rudins anything—unlike, say, adding affordable housing—since they have already promised to build some sort of park on the plot of land across the street from the hospital.
Indeed, Mr. Rudin even seems open to the idea. After yesterday vote, The Observer asked him where he stood on the memorial proposal. "We've always been very consistent in the design that we've put forth in working with the community, that we have placeholders for commemorative elements refelcting HIV and also the rich history of St. Vincent's," Mr. Rudin said.  "We're working with the community board to come up with the appropriate designs."
eknutsen@observer.com