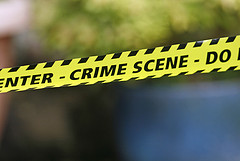 Buffalo-based Information technology analyst Kevin Fallon was poking around a federal crime database when he made a chilling discovery. In the early 1990s, after the arrest of "Genesee River Killer" Arthur Shawcross, another serial killer was stalking endangered and troubled women in Rochester, New York.
Rochester police confirmed Fallon's find. Speaking to the Buffalo News, homicide division Captain Lynde Johnston said the city did have a second serial suspect and that police "agreed that he had killed seven. Some of us think eight."
The suspect in question was a deeply religious truck driver named John White. Police think White may have targeted as many as 19 women, many of them prostitutes and/or drug addicts. Investigators never had enough evidence to arrest White and despite protracted interrogation, he never confessed. On September 18, 1994, White had a massive heart attack.
If you want to check a metro area or county and state for something equally spooky just around the corner, you can happily freak yourself out all day by noodling with the Scripps Howard News Service's Supplementary Homicide Report (provided by the FBI and published online by Scripps) here.