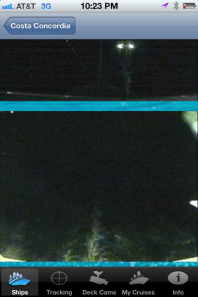 One of Italy's largest ocean liners, the Costa Concordia,  ran aground off the Italian coast Friday night. There were 4231 passengers and crew on board. Witnesses at the scene were quick to draw (perhaps overly) dramatic comparisons, telling  local media the Concordia "looked like the Titanic." Sky News reported 2 deaths late Friday but Italian paper Il Messaggero reported up to 8 casualties with more wounded and missing.
Unlike the Titanic, which sank in April, 1912, the Concordia was close to land when it ran into trouble and many passengers who left via lifeboat or dived off the ship in panic were able to swim ashore.
One passenger told Italian press that the lights went out during dinner. Luciano Castro said passengers heard a sound like a shot, a roar, then their dishes fell to the floor.
Il Messagero reported women in suits and high heels onshore, comforting exhausted and frightened children.
The Concordia was listing badly  but officials said it was still buoyant, meaning they did not expect it to sink.  It was located just off the tiny island of Giglio, which had little in the way of emergency services, however Giglio Mayor Sergio Ortelli said he would open "anything with a roof" to assist the survivors.
The same ship had trouble in November, 2008 when rough seas in the Port of Palermo pushed it against the quay, damaging the bow and hatch. No one was injured.
Circumstances surrounding Friday's incident are still under investigation.
[Sky]