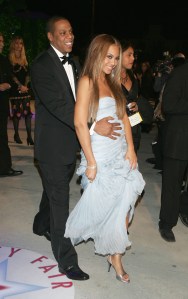 Beyonce and Jay-Z's baby isn't even one week old, and already Ivy Blue Carter is making her influence known. Not only does she have the ability to allegedly shut down whole maternity wings and inspire music, but she's now also the youngest human being on planet earth to ever be featured on a Billboard chart.

That's right, Jay-Z's "Glory (feat. B.I.C)" has already risen to the top of the R&B singles with 1.7 million audience impressions since its release earlier this week. B.I.C, if you haven't figured it out, stands for Blue Ivy Carter. Here's her providing vocals, mere hours after her birth, on daddy's latest track.
Glory – Jay-Z feat. Blue Ivy Carter by Warhol2011
Man, Will Smith's kids must be livid right now. Though it will be hard to stay pissed at Jay when he's directing her in an upcoming Broadway revival of Annie, we're sure that in the privacy of her own bedroom wing, Willow Smith is whipping her hair back and forth in a jealous fit.