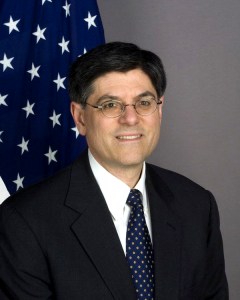 Maybe you've heard: President Obama's chief-of-staff, Bill Daley, has stepped down. Taking Mr. Daley's place will be Jacob Lew. This will not please some people.
Before we get to those people, here are some fun facts about Bill Daley:
– Prior to being appointed, Mr. Daley was a vice chairman at J.P. Morgan.
– Mr. Daley at one point held $7.6M in stock from the company.
– In 2010, Mr. Daley made $8.7M from J.P. Morgan.
Seeing as how sentiment against the unmitigated profits of Wall Street reached fever pitch over the last year, one would think President Obama would be wise to consider resumes from other corridors of power to choose from when deciding upon a new chief of staff. And maybe he did!
In the end, however, he decided upon Jacob Lew. Here are some fun facts about Jacob Lew:

Mr. Lew is, like President Barack Obama, a Harvard graduate. He appears to be very intelligent! The money he made from CitiGroup really isn't that much in the very large scheme of things, and Citi is commonly a punchline as far as the largest investment banks go. He's probably a nice guy, too.
None of that will likely make a difference to someone who is still upset with the financial system and the people responsible for the havoc it wrecked on the global economy. That said, if the Republican candidates for president or the committees helping them with their campaigns are looking to assault President Obama for Mr. Lew's appointment, they'd be well advised to recall his nomination to the Office of Management and Budget, which "sailed through" the Senate in a voice vote.
Anyway: Congratulations, Jacob Lew! Enjoy that new job of yours. It will surely be rewarding both personally and financially and not stressful in the least.
fkamer@observer.com | @weareyourfek