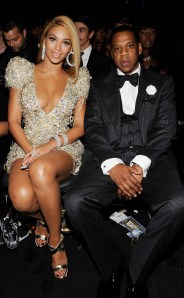 Two days after the arrival of their newborn child, Jay-Z and Beyonce would probably like nothing better than to go home, curl up with Blue Ivy Carter (or Babyonce, as we're calling her), and sleep for a week. Alas, the downside of fame is that the press will not leave you alone until you hand them your first child. Literally. Well, okay, not literally. But the duo had to spend all day in front of the cameras, talking to the press, and avoid tabloids trying to negotiate the price for a cover shoot featuring their infant child. (And of course, Gwyneth Paltrow was one of the first celeb "friends" to tweet congrats to the couple and clear up confusion about the baby's name…now will Jay please do an album with her???)
Good thing that Jay-Z is such a slick guy: not only did he and Beyonce release a statement about their bundle of joy, but he managed to tie her into marketing for his website with a song he put up exclusively on Life + Times.
"Glory (featuring B.I.C)" is a new single dedicated to Blue Ivy. Listen below.


Sample of the surprisingly personal lyrics:
Daddy's little girl
You don't yet know what swag is
But you was made in Paris
And mama woke up the next day and
Shot her album package
Last time the miscarriage was so tragic
We was afraid you disappeared
But nah, baby you magic
Below the song's player, a message reads:
Life just got REALLY good.
Hello Hello Baby Blue!

We are happy to announce the arrival of our beautiful daughter, Blue Ivy Carter, born on Saturday, January 7, 2012.

Her birth was emotional and extremely peaceful, we are in heaven.

She was delivered naturally at a healthy 7 lbs and it was the best experience of both of our lives.

We are thankful to everyone for all your prayers, well wishes, love and support.

Beyoncé & JAY Z
Does this mean Rocawear is going to come up with a baby line now? And when did Jay have time to record this? In the delivery room?