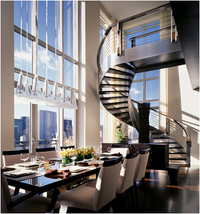 Jeff Blau knows his way around a building. As the President of Related Companies, one of New York's  preeminent development companies, we imagine Mr. Blau loves nothing more than the smell of imported drywall in the morning.
It seems that Mr. Blau's personal and professional tastes overlap:  until very recently, he has resided in the massive duplex penthouse of The Chatham, living in the lap of luxury atop the Robert A.M  Stern-designed building. The edifice was developed by Mr. Blau's company in 2000.
After putting the condo on the market last April for $18.9 million, the place finally sold. It seems Mr. Blau's head was stuck in the penthouse clouds when he priced the place, however: the apartment fetched just $14 million, city records show.
Mr. Blau moved out of his erstwhile bachelor pad three years ago when he settled down and started a family. In 2008, He purchased the Bommers' old apartment at 1040 Park, for $21 million.
The Chatham penthouse wasn't put on the market until last Spring when Corcoran agent Leighton Candler listed it for nearly $19 million. After being de-listed temporarily, the duplex was put back on the market through Brown Harris Stevens agents Cathy Franklin and Alexis Bodenheimer with a $15.95 asking price.
So what made Mr. Blau think his apartment was worthy of such exorbitant prices? Perhaps because it was designed with him in mind: as Related was developing the building, designers worked directly with Mr. Blau to craft the custom the two-bedroom, three-bath spread. Being a building developer has its perks!
Though the new buyers, who purchased anonymously through an LLC, may have to live with Mr. Blau's tastes, there are much worse fates to be had.  "The dazzling duplex offers breathtaking views encompassing Central Park and all points east and west," according to Ms. Franklin and Ms. Bodenheimer's listing. The home comes with two terraces, twenty-two foot ceilings, a wet bar and a library.  What does the condo lack? A wood burning fireplace! Apparently Mr. Blau prefers gas.
eknutsen@observer.com