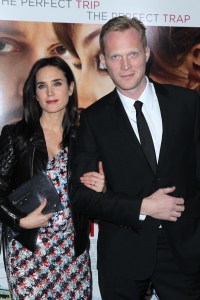 After their Park Slope adventure, Paul Bettany and Jennifer Connelly decided to head back to Manhattan, investing in a $6.9 million Tribeca penthouse. Apparently Tribeca didn't suit them either, however, as they have just put the place on the market, Curbed reports.
They're hoping to turn a profit on the penthouse at 288 West Street, as well, listing it for $8.495 million. Those Beautiful Mind royalties not paying off like they used to? The three-bedroom place may be feeling a little cramped, as Ms. Connelly just gave birth to her third child last May.
For a family of slightly smaller size (or one willing to have kids bunking), however, the 4,096-square-foot home is comfortable. According to a listing from Douglas Elliman brokers Raphael De Niro, James Flowers and Niro Pipher, the co-op features a skylight, a library/media room with maple shelves (currently stocked with classics like A Knight's Tale and Labyrinth) and a wood burning stove, a laundry room and "espresso stained floors," (Starbucks, we trust). Curbed has a walk through worth checking out.
eknutsen@observer.com