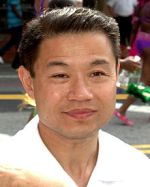 New York City Comptroller John Liu raised over $500,000 for his 2013 mayoral campaign over the last six months, a solid amount that still represents a slowdown from the $1 million he raised in the last reported filing. There is little doubt that a recent fundraising scandal, where federal authorities charged one of Mr. Liu's donors with funneling thousands of dollars in illegal contributions to his campaign, had at least some effect on Mr. Liu's efforts.
Still, Mr. Liu's $2 million cash on hand represents a significant amount of money for a mayoral campaign to work with, even if his typically impressive fundraising operation is unable to add new contributions and donors at the same rate it once could. Additionally, if the scandal passes from the public consciousness, it's possible that skittish donors will return to raise money on his behalf.
Other likely mayoral contenders also posted good hauls. City Council Speaker Chris Quinn actually raised less than Comptroller Liu over the last six months, but that's because she's already maxed out her campaign account under the city's campaign financing system. Public Advocate Bill de Blasio reported raising over a million dollars this cycle, while former Comptroller Bill Thompson reported close to $650,000 and Manhattan Borough President Scott Stringer raised $500,000. Newspaper publisher Tom Allon posted a more modest haul with $120,000.
Mr. Liu's campaign account would allow him to hypothetically use the money for his own reelection as Comptroller, if he so chose. However, all public indication is that he's plowing forward with his mayoral campaign in the hopes that his support picks up after tumbling somewhat due to the fundraising scandal.