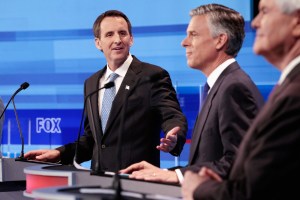 Jon Huntsman has told advisers that he's done with his 2012 presidential campaign. Politico reports the Republican ex-governor–who many Democrats seemed to think of as 'the nice one' on the other side of the aisle–plans to throw his support behind front runner and fellow Mormon Mitt Romney:
A source said that Huntsman's rationale for backing Romney, who he has criticized for weeks on the campaign trail as lacking a "core," is that he didn't want to block the person best prepared in the field to beat Obama, and then to lead the country and grapple with the economy.
Huntsman campaign manager Matt David confirmed the decision to the New York Times, saying Huntsman felt it was time for Republicans to "rally around a candidate who could beat Barack Obama and turn around the economy."
Huntsman is the fourth candidate to leave the race.