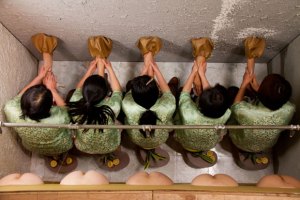 Andrea Rosen Gallery just sent over a press release announcing that it is going to be working with German artist Josephine Meckseper and Argentinian video-installation mistress Mika Rottenberg.
Ms. Meckseper, who was tapped for the 2010 Whitney Biennial, had been showing with Elizabeth Dee in New York, while Ms. Rottenberg, a 2008 Whitney Biennial alumna, had been with Nicole Klagsbrun, who will now co-represent her.
Update, 12:45 p.m.: Half Gallery just suggested on Twitter that Sterling Ruby, who parted ways with Pace Gallery last week, could be next to join Ms. Rosen's roster. It seems possible (he had a two-person show there with work by Lucio Fontana last year and a three-person meet-up with Carol Bove and Dana Schutz in 2010). We'll see what happens.
Ms. Rottenberg's 2010 show at Mary Boone Gallery, in collaboration with Klagsbrun, was, in our humble opinion, easily one of the highlights of that season–it featured a compact theater that showed a video documenting the production of a strange cube made of cabbage and detritus. (Here's a photograph of a good-sported Ms. Boone holding it.)
Gallerist's Michael H. Miller wrote about the work that Ms. Rottenberg made for Performa 11, in collaboration with sculptor Jon Kessler, late last year.