Want to vet JP Rosenbaum as the construction manager for your next development?
All one has to do is ask the housewives, teenagers, bloggers, reality TV fiends, and just about anyone who's stood near a magazine rack while waiting in a grocery line, and they will uniformly say that he is the "cute and sweet" chap who swept Ashley Hebert—the titular character in last year's version of ABC's The Bachelorette—off her dainty feet.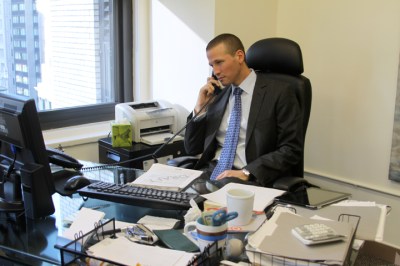 Of course, such a vetting may lead developers to lock up their wives and daughters far away from the reality Romeo. But Mr. Rosenbaum, a Long Island native who was raised in a real estate family, is not just America's most famous fiancé. He may also be America's most famous construction manager.
"If there was any dirt on me to be had, you would have seen it," said the 34-year-old Mr. Rosenbaum.
Sitting inside the offices of the J Companies, where he has worked as a construction manager for five years, it appeared that it was indeed back to work for the good-natured and well-dressed Mr. Rosenbaum. And what started out as a lark—he tried out for The Bachelorette after a friend submitted his name on an online application—turned out to be a life-changer for him, he said.
"I always thought I would go away for two weeks, have a vacation, come back, and it would be forgotten about," he said, a smile growing across his face. "And I came back with a fiancée."
He also came back with all the attendant hoopla that accompanies on-air betrothals.
The frenzy surrounding his upcoming wedding to Ms. Hebert is still whirring, thanks to People and InTouch magazine coverage ("Ashley and JP's Dream Wedding!")
But months have passed since the final episode of the seventh season of The Bachelorette, when Mr. Rosenbaum beat out winemaker Ben Flajnik for Ms. Hebert's hand, perhaps proving to America's single ladies that real estate men are made out of sturdier stuff.
Back on Mr. Rosenbaum's mind, other than his bride-to-be, is the Gallery at Westbury Plaza, a 330,000-square-foot retail development in Nassau County that has already leased out space to Trader Joe's, Shake Shack and Saks Off Fifth. It is scheduled to open in the fall of 2012.