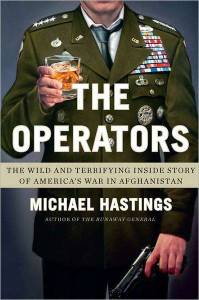 "Two years ago, Michael showed up on our doorstep," said Rolling Stone executive editor Eric Bates of his star writer Michael Hastings. The viability of the profile Mr. Hastings had pitched, Mr. Bates said speaking in retrospect, "really depends on what kind of access you can get."The audience erupted in laughter.
A crowd was gathered at the Half King Bar to celebrate the release of Mr. Hastings's new book, The Operators, a document of the American war in Afghanistan built in part upon Mr. Hastings's incendiary, excessively accessed profile of General Stanley McChrystal in Rolling Stone—one that led to the general's resignation.
After a secondary introduction by David Rosenthal, publisher of Penguin imprint Blue Rider Press (the publisher that snapped up Mr. Hastings's manuscript after Little, Brown had abandoned it), Mr. Hastings took the floor. "I can hear, from 400 miles away, the expletives going through Eric's head when I file my copy!" said Mr. Hastings, by way of thanks. He mentioned, a few times, the catchphrase "hashtag-humblebrag," and incited his audience to follow him on Twitter, before reading a brief excerpt from his book.
Upon mention of one unflatteringly portrayed soldier, Mr. Hastings interrupted his own work to note, "He also gave me the one-star review on Amazon, probably." (Mr. Hastings has nothing about which to worry: he was featured at number 20 on the Jan. 29 extended hardcover best-sellers list in the Times Book Review.) Reading an digression about a particular soldier, Mr. Hastings referred to his Rolling Stone coup: "The story was so fucking good we didn't need that."
"It needed some editing, shall we say, but the bone structure was good," said Mr. Rosenthal. "I want him to do another book—he'll be a star for years to come."
But how can Mr. Hastings get access like that again? "I have a profile coming out of an up-and-coming radio star," he told The Observer outside his reading. "It's always challenging to get stories that no one else has, but if you look at my stories for Rolling Stone over the past couple years, we break news every time."
As for Little, Brown's loss, Mr. Hastings began: "They lost their nerve." In the midst of describing the challenges fending off Obama administration challenges to the book's facts, he spotted a familiar face: "I think that's Sebastian."
It was, indeed, war correspondent and Half King co-owner
Sebastian Junger, wandering around the base of the High Line on his cell phone. After a bit more of our questioning of Mr. Hastings, Mr. Junger had hung up, and was thanked for his attendance at the reading."I was outside talking to a friend. But, it was good?" asked Mr. Junger.
It was, said Mr. Hastings.
"You got a book coming out?" said Mr. Junger.
Mr. Hastings offered to send him a copy.