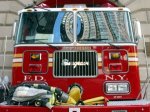 New York City's lawyers are currently asking  the U.S. Court of Appeals to reverse a lower court's ruling against the FDNY's hiring policies calling the judge in that case media-obsessed and biased. Assemblyman Keith Wright, who doubles as the Chair of the Manhattan Democratic Party, blasted the city's move this afternoon and placed the blame squarely on Mayor Michael Bloomberg.
"In the epitome of contradiction, Mayor Bloomberg has accused Federal District Judge Nicholas Garaufis of bias after his ruling for federal oversight on the over four year old litigation concerning diversity in the New York City Fire Department. He even went so far as to ask for Judge Garaufis' removal from the case," Assemblyman Wright said in a statement.
Last year, Judge Garaufis ordered an outside monitor to overhaul the fire department's hiring process to increase the department's diversity. New York City's lawyers contend that FDNY's hiring policies are not intentionally discriminatory, but Mr. Wright strongly disagreed in the strongest of terms.
"After protecting the nepotistic and blatantly racist practices of the FDNY for what equates to an entire mayoral term, it is ridiculous and shameful for the Mayor to again stand on the side of ignorance with this bizarre request," he continued.
"Although the City has taken some actions to finally integrate the FDNY in recent years, in moves designed to draw attention away from the fact that they were still fighting the integration of the FDNY in the courts, the Judge is right to be distrustful of this administration and their true commitment to justice and equality. As Judge Garaufis has correctly stated, 'The city still doesn't get it' and his bombastic request for removal confirms that Mayor Bloomberg 'gets it' just about as much as Blacks and Latinos get jobs as firefighters in New York City."