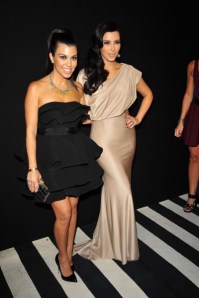 Most city dwellers would be hard pressed to decide between watching "Kourtney and Kim Take New York"  and being slapped in the face with a dead fish. For one small cabal of New Yorkers, however, the excruciating show has proved to be a boon. At least one real estate broker has enjoyed inflated asking prices at a building once occupied by the Kardashian duo, the Wall Street Journal reports.
A two bedroom penthouse at the trendy Smyth TriBeCa hotel was priced at $4.8 million in 2007 and, after briefly being taken off the market, again in 2009. Recently, however, the apartment was given a significant price-hike, and now has a $4.995 million asking price. Who's to blame for the steep increase? Kourtney and Kim Kardashian, it would seem.
"Want to live where the Kardashians lived—who doesn't?" one announcement of the listing said, noting that some of the same furnishings seen in the show are still there.
It turns out, however, that the fame-loving sister's haven't spent a single night in this apartment. They lived in a separate unit in the building when filming their New York-based show. The broker, Sean Turner of Stribling and Associates, isn't terribly concerned with that detail, however.
"The Smyth Hotel resonates with their fan base, which is huge," Ms. Turner said. "The Kardashians inhabited the hotel and took it over with their security and paparazzi. It was their scene."