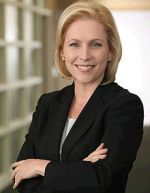 In addition to polling Governor Cuomo, Siena College also surveyed support for Senator Kirsten Gillibrand, who will be facing reelection in November after winning reelection in 2010 to serve the final two years of Hillary Clinton's term. Although her favorability numbers are just a smidgen under an outright 50% majority, she dominates when paired against her largely unknown Republican opponents, making the task of defeating her a tall order.
The Sienna poll found Senator Gillibrand beating Nassau County Comptroller George Maragos 63% to 22% and former New York Comptroller candidate Harry Wilson 63% to 23%. The poll did not test the CEO of the executive job-hunting site TheLadders.com, Marc Cenedella. Both Mr. Cenedella and Mr. Maragos are campaigning actively for the seat, while Mr. Wilson has only said that he's considering a campaign
Of course, Ms. Gillibrand also benefits from her challengers being almost entirely unknown to voters across the state. Despite his previous run for statewide office in 2010, only 21% of voters currently have any opinion on Mr. Wilson. That's only 1% more voters than those who registered an opinion on Mr. Maragos.
Even the Republican candidates become better known, they will still have a steep hill to climb. Senator Gillibrand easily won reelection in 2010, 63% to 35%, which matches her current support when polled against possible GOP opponents.
View Ms. Gillibrand's poll numbers, past and present, below: