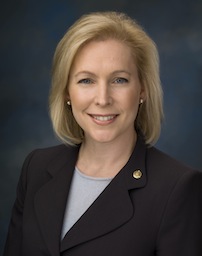 In her speech at the Association for a Better New York breakfast this morning, Senator Kirsten Gillibrand promised to introduce a campaign finance reform plan that will take on the super PAC's. However, with the system as it is she doesn't think President Obama should refrain from using the controversial political action committees
Senator Gillibrand elaborated on her stance on super PAC's in a Q&A with reporters after her speech.
"You would never disarm unilaterally. Why would you not be able to amplify your voice?" Senator Gillibrand said. "But it doesn't mean you can't fight for the transparency and the disclosure. I think you should have that disclosure and I'm going to fight legislatively to accomplish that."Senator Gillibrand said her "long term goal" is taking private money out of political campaigns.
"I think we have to get money out of politics. At the end of the day, if we are ever going to restore people's confidence in our political system, in our democracy, it really means publicly funded elections," she said.
In the meantime, Senator Gillibrand said she wants to see greater transparency from the super PAC's as a "first step."
"What's so outrageous to me is that if we can't get to a place where people can't put money into politics we should at least get to a place where anybody who puts money into politics has to dislcose who they are and where that money's coming from," Ms. Gillibrand said. "You know, when I run a political ad to support my campaign, at the end of that ad it says, "I'm Kirsten Gillibrand and I approve of this message.' If a company is putting millions of dollars into a campaign, I expect at the end, 'Hi, I'm Joe CEO and I approve of this ad,' or 'Hi, I'm Joe Number One Donor and I approve of this ad.' Minimal, minimal transparency."
Super PAC's are allowed to collect unlimited donations as long as they technically remain separate from the campaigns they support. They have been quite active in this year's presidential campaign.