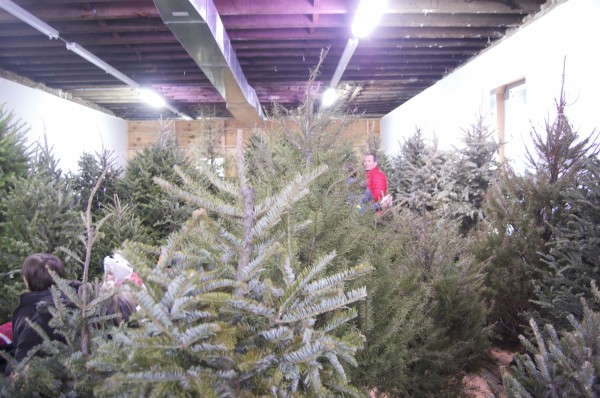 The Christmas season is, of course, long gone, and Gallerist said a sad goodbye to our celebratory tree many weeks ago. It was a pleasure, then, to visit the second-floor Reena Spaulings gallery this past rainy Sunday to find a full forest of evergreens installed, courtesy of Swedish artist Klara Lidén. It smells like heaven up there in the former brothel.
The trees are in big buckets of water, and they are packed in tight, making it hard to walk around without bumping into them. Consequently, the floor was wet and soggy. Which is good, since it seems like a terrifying fire hazard—even more so than Claire Fontaine's 2010 wall drawing made of thousands of fire-retardant-coated matchsticks.
What's Ms. Lidén up to here? It's tempting to understand the work as a canny rejoinder to Peter Nadin's overwrought (though certainly polished) installation of 57 dead, stripped hemlock-tree sculptures at Gavin Brown last summer. The thrills here are cheap—the visual shock of the forest, the scent of evergreen, the prick of the needles—but they're real, and we'll take them.
The trees will slowly deteriorate as the show runs (through Feb. 19), making the work something of an ephemeral, lo-fi take on Paula Hayes's terrariums, which require careful maintenance, or Joseph Beuys's 7000 Oaks project, which is made of trees with 200-year lifespans that promise to outlive us all. Sometimes good things don't last.