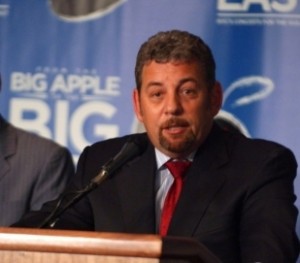 It was just another Tweet, one of hundreds of thousands fired off every minute, and it attracted little attention. Yet, it was notable not just for its author—Fred Wilson, the New York City-based venture capitalist responsible for funding some of the most high-profile tech startups in America—but for what it portended. Mr. Wilson had attached a photo of his television showing a professional basketball match. "Thanks everyone for your help on streaming the Knicks game," he wrote, adding the kicker: "#screwcable."
Mr. Wilson was one of about 2.8 million people who found themselves unable to watch the Knicks game on their usual platform, Time Warner Cable. With his legions of techie followers, he'd found a work-around. He was one of the lucky ones.
The cable provider, which is the largest in New York City, is currently locked in a licensing fee dispute with Madison Square Garden Entertainment, the company that owns the New York Knicks, New York Rangers, Madison Square Garden, and the MSG Channel, among other holdings.
The dispute involves the channel. In its most simple distillation, MSG wants Time Warner to pay a certain amount of money per subscriber to carry it, what's known as a "licensing fee." Time Warner wants to pay less than what MSG is asking. Ever since the previous licensing contract expired on January 2 without a new deal in place, Time Warner subscribers who have clicked over to MSG have found, well, nothing. Time Warner offered up a month of their $5.95 sports package to compensate.
The MSG Channel shows about 60 percent of the Knicks and Rangers games New York-based fans could watch; the remainder Time Warner claims, can be found elsewhere on its channel lineup. That still leaves Knicks fans in the dark most nights.
Such showdowns are not uncommon in the cable industry: Viacom (MTV, VH1, Comedy Central, Nickelodeon), the NFL Network, Starz!, and soccer channel GOL TV have all been involved in heated negotiations with TWC at one point or another.
The disputes tend to follow a familiar pattern: First, media stories about contracts expiring begin appearing. Then dueling ads turn up in print media blaming the other party for viewers' deprivation of beloved programming and attempting to spark a deluge of phone calls. A local government official will usually condemn both parties and push the talks forward. Eventually, the dispute is resolved, stations flicker to life, and the earth spins on.
There have been a few other wrinkles this time around. Since the blackout started, MSG has been holding "viewing parties" at Manhattan bars, replete with free drinks, snacks, the MSG Network, and of course, staffers armed with iPads, directing attendees to sign petitions condemning Time Warner Cable via the website KeepMSG.com, which also suggests alternative cable providers. They even gave out T-shirts. In the run-up to the blackout, MSG began publishing full-page ads in local newspapers (which tend to be the beneficiaries of such battles).
What makes this particular licensing smackdown particularly interesting is the person on the opposite side of the negotiating table from Time Warner Cable: New York Knicks owner James Dolan.
Mr. Dolan is a well-known character. Tales of "his drug-and-drink-addled past, his volcanic temper, his shifting moods" were "legendary," according to a Sports Illustrated profile that appeared in 2007, the same year he was successfully sued for $11.6M as a defendant alongside then-Knicks GM Isaiah Thomas in a sexual harassment complaint. He's said to have instituted policies blacklisting any reporter or outlet critical of the New York Knicks, a motivation reportedly behind his firing of legendary Knicks sportscaster Marv Albert. He pulled a reported $1M. in advertising from The Village Voice in 2009, after this writer made an off-color remark about him on the newspaper's website.
Mr. Dolan and MSG President Michael Bair did not respond to requests for comment for this article. An MSG spokesperson told The Observer that there has been "no meaningful dialogue between MSG and Time Warner Cable" during the continued negotiations.
Mr. Dolan is not only the president of the New York Knicks and MSG Entertainment, but he also happens to own Cablevision, a cable provider just like TWC, albeit with a much smaller market share. As such, he has been involved in licensing-fee disputes from both sides of the table: in his role as the president of MSG Entertainment, and as the president of Cablevision.