The Tet Offensive of Lana Del Rey is here.
Yes, today, Lana Del Rey (the singer formerly known as Lizzy Grant only two hype cycles and one lip injection ago) will see the release of her album.
Despite the fact that 'relevant' tastemakers like Brian Williams, Pitchfork, Hipster Runoff, along with approximately 3/5ths of the people you overhear talking about Lana Del Rey all despise her music and/or artifice, and despite the fact that everyone (including The Observer) is tired of hearing about her, the fact is that the people still have yet to render their verdict through purchases and/or illegal downloads of her album.
Vox populi, vox Lana Del Rey.
As such, today is also the day the Lana Del Rey corporate hype machine goes into overdrive. This includes but isn't limited to, of course, internet banner advertising on sites that ideally target Lana Del Rey's presumed audience; for example, a site like Pitchfork Media, which originally gave Ms. Del Rey's single "Video Games" a Best New Single designation. That'd be a great place to advertise her!
Except, not: Ms. Del Rey's album was panned by Pitchfork Media yesterday. Even so, the "ad buy" on the site likely happened weeks ago, and nobody's going to let good advertising go to waste. So instead, Pitchfork Media now looks like a cross between The Lana Del Report and the result of a revenge tactic.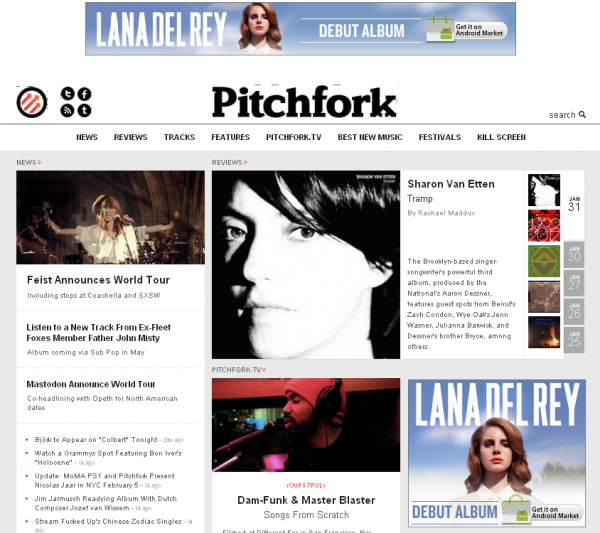 It's really just an obvious ad buy, but it's fun to imagine, and the incedentialism makes the entire thing just funnier and weirder and takes us all further down this veritable K-Hole of pop culture and ideas about "tastemaking" and how the democratization of "cool" is generally leading to the end of it.
This is far from the first time this has happened with the site. When Band of Horses' sophomore album was panned, Band Of Horses' advertising folks bought out all of the site's display unit inventory to fill with their album's banners.
fkamer@observer.com | @weareyourfek