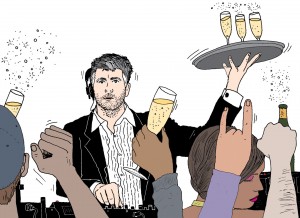 Last year, the centerpiece band of James Murphy's Brooklyn-based record label—DFA Records—called it quits, after three critically and increasingly commercially successful albums. People were upset! The band announced they'd be having one last show at Madison Square Garden before calling the whole thing off. The show sold out in two minutes, and people were extremely upset. The band then decided to have a four nights worth of shows at Terminal 5 before the final hurrah at the Garden, which was generally received to be nothing short of extraordinary. The end, it would seem, had finally come.
Not entirely, however.
The show, which was filmed and broadcast live to the world on Pitchfork Media's site, was also recorded for a documentary. The film, Shut Up and Play The Hits, is premiering at this year's Sundance Film Festival. And the trailer was just released this afternoon:
A website for the film is also now live. Color us excited: No show since, in our estimation, has quite matched the excitement of this one in the year that's followed.
fkamer@observer.com | @weareyourfek