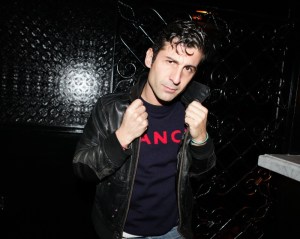 The arrival of Andre Sariva's New York outpost of Le Baron—the most exclusive nightclubs in the world that you're only getting into if you're, like, one of the owners or friends with Stefon—has been waited by those who get off on velvet-rope-rejection-masochism with the eagerness of people who wait for nightclubs for two years at a time. Which is to say: Quite a bit.
As Eater New York's Scott Solish reports, it is supposedly opening this weekend.
Following Men's Fashion Week in Paris, most of the Le Baron family has made their way to New York, using the last few nights to run sound and light checks in the three story Chinatown club that is supposed to evoke "a gigantic, three-story house party… set in 1970s Vietnam."
A second Observer source who is currently having an aneurysm regarding the assembly of his Impossible Mission Force-level Chloe Sevigny costume corroborated this information. Sound the alarm. It's the closest you'll get to being inside. A brief history of the arrival of Le Baron, if you will:
October 2010: "Le Baron to Open Next Month, Not Let You In."
June 2011: "I don't know when Le Baron will open. Maybe it will never open!"
September 2011: "I'm a handy man!"
January 11, 2012: "Will it be open for Fashion Week in Februrary? Will it be open for Fashion Week in September?! Will it be open for Robot Fashion Week when the robots eventually take over in due time?!?"
Conclusion: Either Le Baron is opening tonight, or Andre Sariva is a robot sent from the future to eliminate the leader of the resistance by breaking down their will to live by teasing out the existence of a nightclub he or she will never get into anyway. Also, if that's the leader of the resistance to the robot revolution, this game's already been scored.
fkamer@observer.com | @weareyourfek