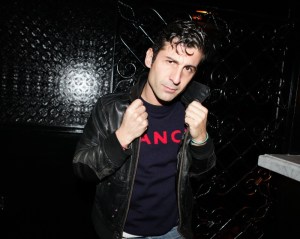 French nightlife impresario Andre Saraiva's Le Baron—with respective locations in Paris and Tokyo, easily two of the most exclusive nightlife spots in the known universe, the likes of which you will never see the inside of—has been anticipated as the messanic salvation of New York City nightlife. Especially ever since word of its stateside arrival was confirmed…in March 2010.
In October 2010, it was rumored the Chinatown club was going to open the following month. No dice.
Last June, Mr. Saraiva was here to supervise construction over Le Baron, even though he didn't know if it was ever going to open (or so he told our nightlife correspondent, who may or may not have had a panic attack induced by Mr. Saraiva's cryptic answers).
Last September, Mr. Saraiva was reportedly spending much of his time hard at work "relaxing in France with lovely arm candy [socialite] Annabelle Dexter-Jones." Not shockingly, Le Baron has been about as elusive in its pre-natal stages as entry to it will inevitably be once it opens. For those who think they stand even the most remote chance at entry, however, good news:
The 32 Mulberry club's liquor licence has been approved. Scott Solish at Eater reports:
The liquor license for Andre Saraiva's nightclub has finally been approved by the State Liquor Authority, clearing the final hurdle for the club to open. No word on the exact opening date, but the hipsterati are already clamoring for it to open as soon as possible. It took almost 22 months from the time the project was announced for the place to clear all of the necessary hurdles, and from what we hear, expect the new three story Le Baron to offer the tightest door since the Beatrice in its heyday.
Will it be open for Fashion Week in Februrary?
Will it be open for Fashion Week in September?!
Will it be open for Robot Fashion Week when the robots eventually take over in due time?!? Because that's still, at this point, more likely to happen before Le Baron opens. Meanwhile, New York City's nightcrawling scenesters can still spend their evenings attempting to cadge drinks from their moneyed older dates at the Electric Room as Nur Kahn secretly transmits subliminals upon their delicate, desperate psyches. Hold out, young urbanite! You may be roused from your (distinctly French) existential nightmare in due time. Salvation may be forthcoming, yet.
fkamer@observer.com | @weareyourfek