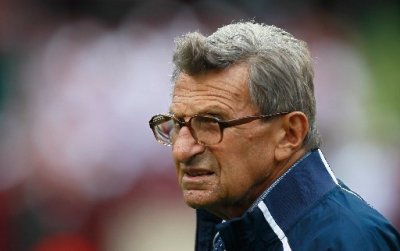 The AP reports that Joe Paterno, one of the most successful coaches in the history of college football, has died. Paterno's condition deteriorated rapidly over the last few days from complications from chemotherapy he was receiving for lung cancer. He was 85 years old. Paterno was the all-time record holder for Division I college football, winning 409 games before he was fired in November 2011 over his handling of the Jerry Sandusky child molestation scandal.
Reports that Paterno's health was failing began breaking across Twitter and in Pennsylvania media early Saturday evening. The Wilkes Barre Citizens' Voice reported Paterno's wife Sue had notified family friends that the storied coach was saying his goodbyes. The paper also indicated extended family were in attendance at Paterno's bedside, including son Jay, who had canceled an event saying his wife was ill.
Paterno was diagnosed with cancer shortly after his firing in November. He appeared weak and wan in videos and images accompanying interviews given regarding the Sandusky scandal. Speaking to the Washington Post about Sandusky prior to his death, Paterno expressed regret over his handling of the situation.
Authorities never charged Paterno, saying he was legally correct when he told Penn State administrators about an incident involving his former assistant coach in 2002.
Paterno's family released a statement on Sunday, saying in part:
As the last 61 years have shown, Joe made an incredible impact. That impact has been felt and appreciated by our family in the form of thousands of letters and well wishes along with countless acts of kindness from people whose lives he touched. It is evident also in the thousands of successful student athletes who have gone on to multiply that impact as they spread out across the country.

And so he leaves us with a peaceful mind, comforted by his "living legacy" of five kids, 17 grandchildren, and hundreds of young men whose lives he changed in more ways than can begin to be counted.