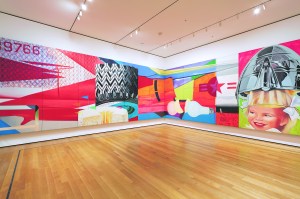 Last Thursday, the Museum of Modern Art debuted its reinstallation of James Rosenquist's F-111 (1964), a garish, 21-panel, 10-by-86-foot critique of American consumerism and the military-industrial complex designed to fill and consume the original 23-by-22-foot Leo Castelli gallery on East 77th Street. Though the work has seen its share of time in museums—it was billed by The New York Times as "the biggest Pop Art painting in the world" when it was installed at the Jewish Museum in 1965 (can't you hear somebody saying, "Look we're never going to understand Pop Art unless we see a lot of it, and this one is the biggest?")—MoMA has billed this permanent collection display as faithful above all others and built a little room on the fourth floor to the exact, tiny specifications of the Castelli gallery, with the painting wrapped around all four walls of the interior.
Reached by phone, Mr. Rosenquist said he's a fan of the new installation.
"When you come out of the contemporary room right across the hallway and you look and you see part of my painting, it looks like it's avant-garde, or it's in the future, and the damn thing is 47 years old," he said. "It's in pretty good shape."
When you first walk through the doors, you notice a demented child under a domed hair dryer, engulfed in atomic bomb fire that curls from an explosion to the right, under an umbrella. Wrapping around the whole gallery is the outline of the eponymous jet, interspersed with props like a runner's hurdle, a Firestone tire, broken lightbulbs, thick, canned spaghetti and an angel food cake. Metal panels hug the entry.
The museum's positioned a handful of collages right outside the current Castelli installation, studies for the work taken largely from Life magazine (apparently we have Hollis Frampton to thank for the swirling spaghetti, not Chef Boyardee, as some viewers might have suspected). The bomb-haired girl really did look that hideous in Life, and Mr. Rosenquist seemed to have taken the dryer from a Coca-Cola ad in which two women in pink raincoats gossip over Cokes and fry their hair. Mr. Rosenquist attributed his painting's continued relevance to the end of history.
"If I was another person and had a show at the Museum of Modern Art in 1961 of a painting that was 47 years old, it would have been done in 1914," he explained. "What would have happened since 1914? Cubism. World War I. World War II. Tons of things happened. Wars and conflicts, and everything else. So here we are now from 1965 to 2012, and it makes me think about what's happened since then. The Berlin Wall came down, but that's about it. So this feels very recent."
In a time of ever-growing gallery sizes, though, the Castelli dimensions harken back to earlier days, and chief painting and sculpture curator Ann Temkin said it was an idea she'd wanted to try for some time.
"It's something we probably don't think about often enough, the changes that have happened during the last 40 years, in terms of the way we perceive and physically experience art," Ms. Temkin told The Observer. "Because it's not just about the objects themselves, it's about the settings, and to think that that was a place where so much art history was made—in today's terms it's just a single small room. It's important for people to know that."