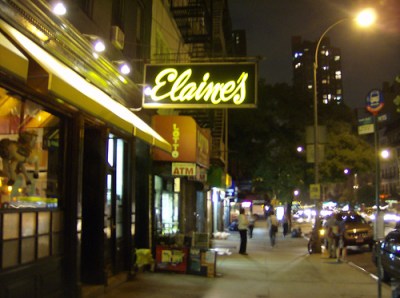 Among the myriad strands of New York City real estate, there are many challenges and treasures are many. The capacious loft, glassy penthouse, uptown grandee, all come with their particulars and peculiarities. Among them is that marriage of two big city institutions: the apartment above an eating establishment.
That inimitable Timesman William Grimes gets a tour of the city's homes "above the stove" this weekend and what he finds in a problem with N.O.V.: noise, odor and vermin. There are benefits as well, though:
Jenny and David Selvers, who live above Gramercy Tavern on East 20th Street, treat the restaurant, one of the most prestigious in the city, as a base of operations. They invite friends for drinks at the bar and an appetizer before going out for the evening. Often, they skip dessert when they dine out and retrace their steps to Gramercy Tavern. "Then we can just head upstairs to bed," Ms. Selvers said.

Showcase restaurants enhance the appeal of an apartment. Humbler dining spots do the opposite, and brokers say that buyers take very seriously the Health Department's letter grades, which restaurants have been required to post in their windows since July 2010. "If the apartment is in a building with a deli and a B rating," Mr. Lewis said, "that can be tough to market."
One woman saw both sides of the arrangement after a decade downtown.
Catherine Redmond, who teaches painting at Pratt Institute, lived over two wildly contrasting food service businesses in the same loft building in TriBeCa between 1992 and 2008. The first, a fried-chicken franchise, was a disaster. The restaurant had a ventilating chimney, but when customers complained that it was too loud, the owners turned it off permanently. As a result, Ms. Redmond's hair and clothes smelled like fried chicken. So did her sheets and her paintbrushes.

Then, bliss. The chicken franchise was replaced by Taylor's, a bakery that operated around the clock and sent heavenly aromas into Ms. Redmond's apartment. The ovens kept her floors warm, an unexpected bonus. Ms. Redmond shifted her bed over the ovens and fell asleep every night to the smell of fresh-baked bread. "That scent is like the memory of a mother's embrace," she said.

There were disadvantages. The elevator floor was covered with flour and sugar. And the 9/11 attacks mounted a threat that no one could have anticipated. "The refugee rodents went north," Ms. Redmond said, "and where would they like to go but a place with fresh baked goods? I lived with a lot of rodent friends for a while." A good mousing cat turned back the tide.
At least it is better than living next door to a slaughter house.
mchaban@observer.com