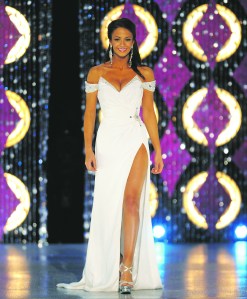 With temperatures dropping into the low single digits, is it any wonder that most of us would prefer to spend our weekends indoors? Sure, we could be doing something with our families and friends on these blustery Saturday and Sunday evenings: Throwing a fondue party, perhaps, or helping the kids put together a jigsaw puzzle with one hand, a glass of Malbec in the other. But how can you expect us to concentrate when there are so many amazing things going on inside that spectacularly flashing flat screen?
Saturday night had us flipping the channels frantically: Did we want to watch the Miss America Pageant—complete with ads for Scientology interspersed with shots of Kaitlin Monte, our very own Miss New York, criticizing the Occupy Wall Street Movement—or the playoffs? Well, it's obvious which one we'd pick, since we happen to know what place Miss New York finished after strutting across the stage in Vegas but can't tell a touchdown from a Tebow these days.
That's not even taking into account the after-hour events! At 11 p.m. we dutifully switched over to Saturday Night Live to watch Daniel Radcliffe slog through the gauntlet of his post-Harry Potter career. We almost wished we could have cast an invisibility cloak over Lana Del Rey during her traumatic musical performances. Note to SNL bookers: Never book a guest who has yet to cut an album, no matter how much the hipsters love her.
Sunday posed an equally prickly question. Should we watch the three-hour painfest that was Ricky Gervais getting booed off the stage at the Golden Globes or the Giants game? Either way, we were expecting a lot more tackling … especially from those A-listers who got all dressed up to receive the usual masturbatory accolades from the Foreign Press Association and instead were forced to grin and bear it while a Brit with bad teeth gave them a spanking. We almost wished that the Globes involved a fourth quarter event as exciting as Brandon Jacobs's touchdown. Instead, we had Meryl Streep, Matt LeBlanc, Brad Pitt and Madonna accepting awards at a ceremony that could have been called Back to the Future: 2001.
Fortunately for Mr. Gervais, mining the past for humor was less abrasive than trying to open new wounds. At the very least, the jokes were less scandalous the second time around. We're still making fun of Johnny Depp for The Tourist, are we? How naughty.
Of course, there was another reason to celebrate the last long, freezing weekend. No, not Martin Luther King Day—that would go without saying (unless you happen to be one Juan Williams moderating a Republican debate in South Carolina). Yesterday was also Blue Monday, a pseudoscientific holiday marking "the most depressing day of the year," which occurs on the third opening weekday of every January and can be dated back to 2005, when it was invented by psychologist Dr. Cliff Arnall as part of a British Sky Travel campaign ad. The formula to determine Blue Monday was fairly complicated and involved factoring in things like weather and broken New Year's resolutions and was originally printed in a mental health journal as if it were scientifically legitimate.
But, hey, that's no reason not to celebrate it! (Xanax for everyone!) Let's face it: Dr. Arnall picked a perfect day for his made-up experiment. Any Monday in the middle of January could accurately be described as the worst day of the year, but had it occurred any earlier this year we might have been too comfortable in our windbreakers and T-shirts to find fault with the shortened days and long nights.
All things considered, it wasn't too bad … inasmuch as we experienced the blues, it was largely in the form of hypothermia.