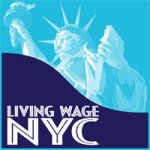 If Mayor Bloomberg hoped that his announcement today that he was backing Shelly Silver's push to raise the minimum wage would de-fang the coalition pushing a living wage for New York City, he was wrong.
"We do hope Mayor Bloomberg ultimately supports the Fair Wages for New Yorkers Act, which would raise job standards for taxpayer-subsidized projects," said Dan Morris, a spokesman for Living Wage NYC, a coalition of groups pushing the measure. "Raising the minimum wage at the state level and establishing a living wage on subsidized city projects will have a broadly stimulative effect: workers will earn more and spend more, generating demand for new goods and services that, in turn, will help create more jobs in the future. These are complementary efforts that will strengthen workers, businesses, and the economy."
The living wage bill currently before the City Council would only affect employees at companies which have space in buildings that were developed with city subsidies. The bill would mandate $10/ hour for all employees, plus benefits, or $11.50 for jobs without benefits.
The bill is currently before Council Speaker Christine Quinn.
"I think it is great he talked about minimum wage, I think it is unfortunate he didn't talk about the living wage. I think we need both," said Bill de Blasio, who last month announced his support for the living wage bill.
Asked if she thought if some of the energy around the bill would dissipate after the State of the City address,  Ms. Quinn demurred.
"That is something to ask the proponents. It is not my fight."
In 2009, the City Council failed to come to an agreement with the Bloomberg administration and the Related Company to develop the Kingsbridge Armory when some community activists, led by Bronx borough president Ruben Diaz, demanded a living wage there. Today, Mr. Diaz announced that he was dropping his opposition to the projects.
Asked if that meant that a living wage is inconsistent with economic development, Ms. Quinn said, "For a significant period of time I have been talking to proponents and opponents about how you find a balance of  raising wages in a way that can bring jobs give people more money and not stagnate the economy."
Obviously raising the minimum wage is a great thing in that it will raise the lowest wages for everybody. The living wage proponents have a different point connected to city benefits and that is their argument to make and I assume they will continue to make it."
Ms. Quinn declined to give a timetable for when a decision would be made on the matter.
But i