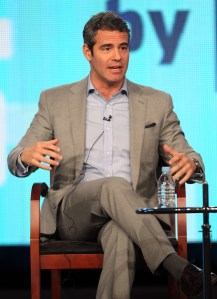 Over the course of an intimate, two hour lunch with Andy Cohen at the Palm West  End Steakhouse, the Bravo celebrity and producer (not to mention celebrity producer) added a new notch in his grey, dapper Hugo Boss suit. Mr. Cohen, whose talk show Watch What Happens Live just moved into its five night a week spot–"You should come tomorrow, we're having a Ralph Fiennes Pajama Party…with Ralph Fiennes!" he had gushed over a meal of Atlantic salmon and Southwest steak salad–was now officially an author, giving us his first reading of his upcoming memoir Most Talkative: Stories from the Front Lines of Pop Culture.
Mr. Cohen is already a natural at line readings, and as engaging to watch as any celebrity hopping from foot to foot mere inches away. Most Talkative is expected for a May 8th release date from Henry Holt and Company, and is sure to be filled with juicy star-studded details. (We're not just saying that because we've just come from hearing one of three–three!–disastrous run-ins the suit-cum-celeb had with Oprah while working at CBS).
"The last time I had the pleasure of working with a celebrity like Mr. Cohen was Rob Lowe," said Henry Holt's Editor in Chief, Gillian Blake, seated at our table and looking not unlike a smaller Mariel Hemingway. "And there was a huge bidding war for Andy's book." Henry Holt bought the book in August; it was just sent to the publisher earlier this month.
"But Andy gets it…he hasn't lost touch with what it's like behind-the-scenes, which makes it really wonderful to work with him, because he's so accommodating and really wanted to write this book. We'd be on the phone all the time."
Mr. Cohen, always one of the more delightful New York celebrities to run into, grinned happily as he began his reading. "I had to get over this block that no one would be interested in the childhood of a closeted gay kid that sat this close to the TV set all the time," he laughed. "That was almost harder than writing the book itself."