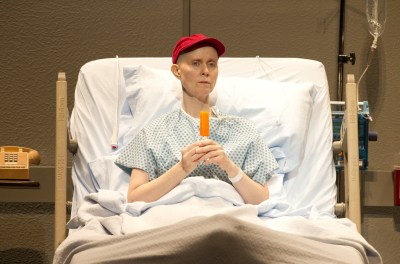 There's a problem with the Manhattan Theatre Club revival of Wit, Margaret Edson's Pulitzer-winning play about a brilliant and demanding academic dying of cancer. This otherwise superb new production, starring Cynthia Nixon and directed by Lynne Meadow, MTC's artistic director, opened last week at the Samuel J. Friedman Theatre in the play's Broadway premiere. The problem is its poster.
Wit focuses on Dr. Vivian Bearing, a meticulous, intimidating scholar of John Donne's Holy Sonnets, and there is midway through it a long discussion on the use of punctuation in the metaphysical poet's work, whether a certain line is correctly interrupted by a mere comma or a more profound semicolon. When the play first came to New York, in 1998, it had a simple, striking design for its marquee and Playbill: the word "Wit" in big, stark letters, rendered in an elegant, academic serif typeface, but with the "i" replaced by a semicolon. It was a serious-looking poster, suited to Bearing's serious manner, but with that important bit of punctuation interrupting things, just as the disease would interrupt the character's life. It was, well, witty—and it was memorable. The current version, by contrast, is obligatorily dominated by Ms. Nixon's face, gazing out plaintively below a chemo-bald pate, with the word "Wit" in tiny letters, in the corner, and without that semicolon. It is the opposite of witty; it is banal.
But it is also the revival's only problem. Poster aside, this is an excellent production of an extraordinary play. It is a genuinely entertaining, deeply moving evening of theater.
Wit begins with Bearing (a fantastic Ms. Nixon) alone on stage, lecturing to the audience as though we're her class. (Ms. Meadow's efficient and sensitive direction brings the houselights back up as soon as they've gone down, to place us in that lecture hall.) She is wearing only a hospital gown and the chemo patient's baseball cap—this one is red and unadorned—and toting an IV pole. She is previewing what we are about to see, an account of her dying. It also quickly becomes clear that this woman is bracingly intelligent, unfailingly precise, and amusingly, subtly wry.
"Irony is a literary device that will necessarily be deployed to great effect," she says in that opening monologue. "I ardently wish this were not so. I would prefer that a play about me be cast in the mythic-heroic-pastoral mode; but the facts, most notably stage-four metastatic ovarian cancer, conspire against that."
Ms. Nixon—who notes in her Playbill bio that she made her stage debut at 14, holds a degree in English literature from Barnard, and counts Wit as her 40th play—is from these first moments transfixing as Bearing, a similarly driven overachiever. Gaunt and shorn, Ms. Nixon nevertheless maintains Bearing's supercilious intellectual confidence but leavens it with a humanity Bearing herself refuses to display. Bearing is not a particularly sympathetic woman, but Ms. Nixon's subtle, nuanced performance—there are no histrionics, even as Bearing nears and reaches death—reveals the character's sympathetic core. As the play continues, Ms. Nixon masterfully crafts a moving portrait of a commanding personality rendered increasingly powerless, a proudly self-sufficient woman losing any sufficiency.
After the prologue, the play flashes back to Bearing's diagnosis, by the accomplished researcher Dr. Harvey Kelekian (Michael Countryman). ("I will never forget the time I found out I had cancer," Bearing narrates. Kelekian enters: "You have cancer.") He proposes treating her with an aggressive, experimental chemotherapy regime—which, of course, appeals to Bearing because it is tough, as is she, and because it will contribute to the advancement of knowledge, to which she has devoted her life. As Kelekian talks, Bearing speaks to the audience, narrating her reactions. "Must read something about cancer," she tells herself, as Kelekian describes each cycle of treatment. "Must get some books, articles. Assemble a bibliography. Is anyone doing research on cancer?"
This kind of parallelism continues through Ms. Edson's immensely well-crafted play, as does the engaging, dryly amusing writing. While Bearing narrates the story of her treatment, she simultaneously flashes further back to narrating the story of her life.
As she revels in tales of her academic precision, of ignoring students' personal needs to focus solely on the work, she is treated by Kelekian's ambitious, socially awkward clinical fellow, Dr. Jason Posner (Greg Keller), who as an undergraduate took Bearing's class, because "you can't get into medical school unless you're well-rounded," and becomes frustrated that he sees her only as a research subject. She recalls discovering her love for language on her fifth birthday, reading Beatrix Potter's Tale of the Flopsy Bunnies with her father; when she is near death and visited by her mentor, the scholar E.M. Ashford (Suzanne Bertish), in town for her great-grandson's birthday, Ashford reads to Bearing from a book she has brought for the boy, The Runaway Bunny.
If one were being picky, one might note that all these parallels—the dying woman has spent her career studying "Death Be Not Proud"—can start to seem a touch programmatic. And that the character of Posner, clearly intelligent but always blithely and obtusely speaking to his patient about the uselessness of the liberal arts and the inconvenience of learning to have a bedside manner, is more a convenient caricature than a developed character. (The nurse Susie, winningly portrayed by Carra Patterson, is the only one in the hospital to treat Bearing as a person, and eventually forms a rare connection with the frosty professor.)
But these are small flaws, and they do not detract from Ms. Edson's masterpiece. (It is, indeed, her only piece; a longtime Atlanta public school teacher, Ms. Edson had not written a play prior to Wit and has not since.) When Wit first appeared here, in 1998, it won nearly every award available to an off-Broadway play, including the Pulitzer Prize for Drama. Now finally on Broadway, it is for the first time eligible for Tonys. It is a serious contender.
By the play's ending, The Observer had tears in our eyes—because the final moments are frightening and sad, but also because we were reminded that truly great theater, like great poetry, can be so moving.
editorial@observer.com