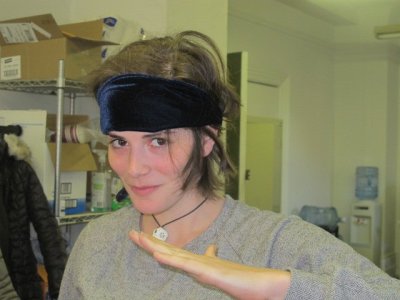 I've always been a great lover of fashion. I own a range of ball gowns and multicolor high tops, which can be pressed into duty as day or evening wear. I have at least four pairs of jeans, a few from recognized labels. (Well, someone would probably recognize them.) I even went to Bloomingdale's last year after watching that Oprah episode and found out my bra size. It turned out I was wearing 36B when I was actually…larger than that. Double-letter larger.
I don't even own a mirror; that's how confident I am of my look.
Admittedly, my sense of style is somewhat singular. I'm creative, funky. I pair pieces that the "fashion world," as it's called, would label a "Don't"—but then I'll wear them for weeks at a time. Who says a $200 black cocktail dress can't be worn with a lumpy blue grandma sweater, some purple Uggs, and a cape? Who says that maroon doesn't go with red? People with mirrors, I bet.
It might not be to every taste, but it has worked for me. And at least I'm not drowning in credit card debt from Tiffany's, right? (Question: Can you buy clothing at Tiffany's?)
I'm so secure in my attire, I had no problem polling a select group of friends and ex-boyfriends about my personal style (the former since I thought they'd be nice; the latter because I knew they'd be honest). A certain theme emerged in their replies: "A six-year-old told by parents she could wear whatever she wanted to school that day," "A sloppy vampire," "Ketamine casual," "Loosely laudanum-inspired," and "Erratic" were among the descriptions.
Much as I appreciated these compliments, I could tell I needed help if I was going to continue the campaign of self improvement I began in a column months ago. Having tackled walking and eating, I was getting ambitious. My plan was to storm the barricades of the upper crust: I was going to become a socialite. And I had just the event in mind at which to start my ascent.
For several weeks, a creme-colored invitation had lay on my desk, requesting my presence at a Monday morning "Celebration of Life" ceremony for Evelyn Lauder, the late social powerhouse and cosmetics executive. Now, I have never owned an Estée Lauder product in my life—for good or for ill—but Ms. Lauder's biography has always fascinated me: a childhood escape from the Nazis, marrying the son of a makeup matriarch, earning the begrudging respect of her formidable mother-in-law by helping to turn their family business into an international success, and going on to become one of the biggest names in beauty and philanthropy.
I might be fashion "special," but even I know the meaning of the ubiquitous pink ribbon she help cook up in the early 1990s. Evelyn Lauder didn't just raise awareness for breast cancer: she took a disease that one never mentioned in polite company and helped erased the stigma, raising global awareness and millions of dollars to find a cure. There was no way I could attend an event in her honor sporting my signature "I don't give a crap, and am possibly on drugs" look.
Especially not at 10:00 a.m. on a Monday.
For assistance I turned to Mary Alice Stephenson, one of New York's preeminent celebrity stylists, who has dressed everyone from Scarlett Johansson to Michelle Obama. Red carpet? Fashion Week runways? Vogue, Harper's Bazaar, W? It's hard to think of a venue or fasionista that Ms. Stephenson's hasn't left her signature mark on…including Estée Lauder models. It may seem a bit odd to ask someone for clothes simply because you can't dress yourself, but apparently celebrities do it all the time.
On Sunday evening, Ms. Stephenson greeted me at the front door of her beautiful three-story brownstone in Cobble Hill, looking like a model herself—even in weekend sweats. "One of the reasons I agreed to do this was to honor all the good Ms. Lauder did with fashion and beauty," the gorgeous blond told me soberly, as she led me to her personal closet. "She was  such a special women who changed the world. She was so philanthropic, and really believed in the idea of paying it forward."
The rug was soft, white, and furry. Even after doffing those purple Uggs (uggggh), I was terrified of stepping on it.
"I've seen so many girls in beautiful dresses, but what makes someone special, what makes them a style icon, is what they do in life and how they help to make a difference in the world," Ms. Stephenson said while flipping through her racks of Michael Kors, Alexander Wangs, and vintage Chanels. "To me, it takes more than a pretty dress to make an 'It' Girl. Remember, I'm not dressing you so you can become a socialite. I'm dressing you to honor Ms. Lauder, and in return I'd like you to pay it forward and assist me with the Make a Wish event that I'm throwing in March."
Wow, fashion was serious business. I decided to ask Ms. Stephenson her advice on a few burning questions. "What do you do for teeth and tummy control?" I wondered. She smiled, handing over a package of Spanx and a little sample of Rembrandt teeth whitener. "It's all about your confidence and openness," Ms. Stephenson told me. "But you need to find a balance. While it's okay to be casual, sometimes it's time to say bye-bye to the hipster."
So belly in, shoulders back, and stop slouching.
"Also," she said, "your sisters need to be pushed up higher." Ms. Stephenson yanked up my bra straps. "You want to show off your curves," advised the stylist, who began her career as an editorial assistant at Vogue. "Accentuate what you like, and hide what you don't. Like show off your beautiful eyes, don't hide behind your bangs!" (Lucky for me, I had burned off half my bangs the night before while I was trying to light a cigarette.)
I needed some help with the first dress Ms. Stephenson suggested: a black Balenciaga cutaway, with a seemingly endless amount of holes through which to stick various body parts. (The dress retails at Barney's for $1,895.) We decided against it, since it would need to be altered, and Ms. Stephenson's tailor was at a friend's house uptown for the day.
Another black number—it's is my color, since it goes with everything (and hides messy spills, in my experience)—from New York Vintage was reminiscent of something Joan Holloway would wear on Mad Men. Unfortunately, it also needed to be taken in, and was thus ruled out. Styling was 10 percent inspiration, it would seem, and 90 percent sewing clothes directly onto your body.
It came down to two of Rachel Roy's volume sleeve dresses—pink and black. I settled on the darker number with the bateau neck and asymmetrical hem. The poofy shoulders weren't anything I would have picked out for myself, but then I usually wouldn't think to pair a dress with a jewel-encrusted Lanvin necklace, since before yesterday I didn't know what Lanvin was.
Then, disaster. As I was trying on a pair of bondagelike Jimmy Choo python peep-toe sandals, one of the zipper pulls broke off. I was trapped in a shoe I couldn't afford! I had a moment of panic, imagining myself walking around like a gimp with one very expensive torture shoe strapped to me for all time. Pinhead from Hellraiser was whispering through the heel, "We have such sights to show you! We'll tear your sole apart!"
Fortunately, Ms. Stephenson was a pro. Brandishing a pair of pliers and a baby pin, she quickly extracted me from the footwear. "Happens all the time, don't worry about it," she said, going on to explain the benefits of always keeping a baby pin around.
"Next time…" the Jimmy Choo hissed at me.