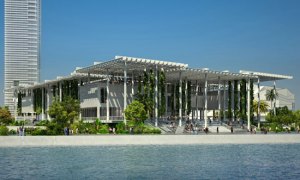 The Miami Art Museum has received a $1 million challenge grant from the Helena Rubinstein Philanthropic Fund dedicated to the purchase of contemporary art and set to match donations in $250,000 increments.
"The generous support from the Helena Rubinstein Foundation underscores the importance of our continued focus on building the museum's collection," said director Thom Collins, according to Artforum.
The museum, currently under construction, will be known as the Jorge M. Pérez Art Museum of Miami-Dade County once it opens.