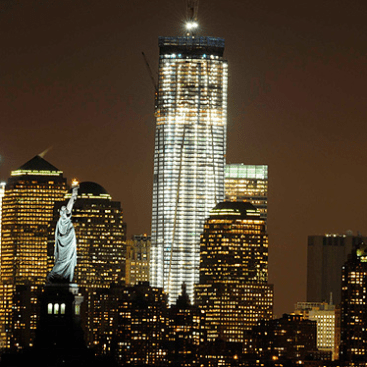 The law firm Chadbourne & Parke is rumored to be checking out space at 1 World Trade Center. A report in The New York Times today hinted that a deal is close, but brokers familiar with the firm pointed out that a lease was far from done.
The Times wasn't the first to reveal that Chadbourne has been looking at the 2.6 million-square-foot skyscraper being developed by the Port Authority. Last year, the New York Post's ace real estate columnist Steve Cuozzo pointed out that the firm was one among a handful of law firms considering the building.
The law firm is in the market for between 250,000 and 300,000 square feet and is looking at space in the symbolic 1776-square foot tower's upper tier or midrise. Condé Nast, which signed for more than 1 million square feet last year, is going to occupy much of the building's base floors. Two weeks ago, the publisher decided to add another 133,000 square feet on 42nd through 44th floors of the 104-story tower.
The deal with Chabourne surprised some brokers that are familiar with the firm, as well as the tastes in general of high-end law offices that have long been in Midtown as Chadbourne has.
The firm currently has space at 30 Rockefeller Center, but renewing there was made impossible last year when the accounting firm Deloitte signed a large 400,000-square-foot lease to relocate to that property when its current deal at the World Financial Center expires in 2013. According to written reports, NBC, Rockefeller Center's largest tenant, will also expand into space at 30 Rock, eating up other portions of Chadbourne's space.
Still, Chadbourne's decision to move downtown puzzled one seasoned broker familiar with both midtown and lower Manhattan. "Most times, the partners at a big law firm live in Connecticut or Westchester or on the Upper East Side and they don't want to commute all the way downtown," the broker said.
Still One World Trade Center, which will be completed in 2013, is one of the few newly constructed office buildings in Manhattan that will be ready in time for the firm's relocation. "Brand new office space is something that more and more tenants want," the source said.
There is also the fact, as The Times points out, that Chadbourne had spent most of its history downtown, only moving to Midtown four decades ago.
dgeiger@observer.com