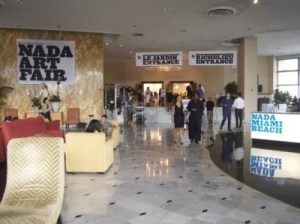 The New Art Dealers Alliance (NADA), the organization of galleries that holds its own art fair in Miami Beach each year during Art Basel, will be doing a fair in New York in May 2012, according to an e-mail sent out to its members. This is the latest in a series of expansions for NADA.
Back in July, NADA brought more than 50 galleries to Hudson in upstate New York (work was for sale, but Heather Hubbs, NADA's director, called it an "experiment" instead of an art fair).  The organization has also announced it will be joining forces with Art Cologne in 2012, bringing 30 galleries to the Koelnmesse exhibition center in April.
NADA New York falls on the same month as the inaugural Frieze New York art fair on Randall's Island. No more details have been released yet. According to the e-mail, an application and further details on the fair will be released in the next two weeks. Ms. Hubbs was not available for comment.
A number of NADA members–including James Fuentes, Jack Hanley and Nicole Klagsbrun–are already participating in Frieze, according to that fair's massive list of participants. Frieze will have 170 exhibitors, but as one dealer told Gallerist, NADA New York is more than necessary: "There are enough good New York galleries that didn't get into Frieze."