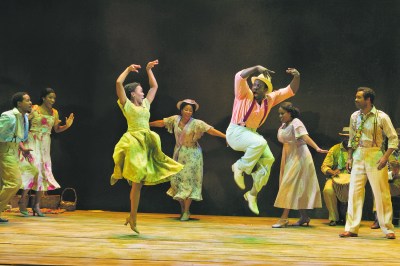 Porgy and Bess has never been thought of as a dance show, and yet it's filled with dance. It uses dance to punctuate the action, or as background, or as atmosphere; even when it's front and center it isn't crucial. Back in 1935 when it opened (at the Alvin Theater, on Broadway), it was reviewed by both the New York Times's theater critic, Brooks Atkinson, and its music critic, Olin Downes. Atkinson never mentions the show's dance component, and Downes has only this to say: "Admitted the instinct of Negroes to dance, did the inhabitants of Catfish Row set themselves in centrifugal patterns along the floor and wiggle hands and toes like the ladies who are auxiliary to a soloist's performance in a revue? Of course this was amusing. So was the clogging of Sportin' Life in the forest scene."
Downes doesn't bother mentioning that Sportin' Life was played by John W. Bubbles, one of the great tappers—Astaire thought he was the finest of his generation and took lessons from him. He and his partner in their famous act "Buck & Bubbles" had a triumph in the 1931 edition of the Ziegfeld Follies and were the first black performers to play Radio City Music Hall. George Gershwin chose him for Sportin' Life although he couldn't read music and had to be taught "It Ain't Necessarily So" and "There's a Boat Dat's Leavin' Soon for New York" work by word and note by note. Yet he doesn't rate a mention in The Times, nor is the choreographer identified. So much for dance.
There's always been controversy about this opera, Broadway show, folk opera, work of musical theater. And of course there's already been a ton of controversy about the new version starring Audra McDonald and Norm Lewis and irritatingly renamed The Gershwins' Porgy and Bess; Stephen Sondheim, as we all know, blasted it before it opened in Boston, and the artistic crew who reconceived it at least stepped back from the brink of giving it a happy ending. The issue, at least for me, isn't "What category does it belong to?" but "How good is the dance element and how does it affect the show as a whole?"
The choreographer is the well-known Ronald K. Brown, who founded his own admired company in 1985 and has provided the Alvin Ailey company with Grace, the best new work in its recent history: his credentials are impeccable. His work here, too, is impeccable—sensible, coherent, tasteful—but unmemorable. There's a picnic number—flouncy dresses, wriggly hips, bulging picnic baskets—that's in the direct line of such scenes going back to Agnes de Mille's clambake in Carousel; this is generic stuff. There's a busy ensemble number in the first act that's pure Ailey. There's a solemn mourning number that seems to reflect the original stage production. See for yourself: on YouTube there's a minute and a half showing Rouben Mamoulian, the original director, rehearsing the company back in 1935. This silent clip includes a few seconds of the scene that are more spontaneous and exciting than Brown's somewhat stylized interpretation. The bonus here is watching how Bubbles walks and struts as Sportin' Life; you don't need sound to realize what his performance must have been—and to wish he were up there on the stage of the Richard Rodgers Theatre right now in place of the pallid David Alan Grier. (There were giants in those days.)
That the dance numbers are presented as numbers is what's significant about what Brown and Diane Paulus, the director, are up to. The relative independence of the dances from the overall flow of the show turns them into individual items, the way dance figured in most old-fashioned musicals, and helps tilt Porgy and Bess further from Gershwin's operatic intentions toward scoring as a Broadway hit. That's certainly not a crime against humanity, if you're happy with a version that's thinner rather than fuller, but it emphasizes how far from essential dance is to The Gershwins' Porgy and Bess.
editorial@observer.com