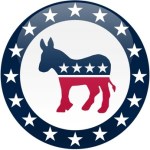 The Democratic Congressional Campaign Committee sent around a new poll out today from The National Journal which gives their side some hope heading into the fall elections.
The survey gives Democrats an 11-point lead (48-37) over Republicans when voters are asked if they would rather see them or the GOP take control of the House.  And the poll contains particularly good news for Democrats as they look at playing field that has been gerrymandered against them in recent months as Republicans, who swept into state legislatures across the country, have carved up districts to their liking.
In particular, House Democrats managed to beat the GOP among white men. Obama loses white, college-educated men by 16 points and white non-college men by 11. House Democrats run even with House Republicans among college-educated white men, 45-45, and actually beat the GOP 44-41 among non-college white men. That couldn't be more different than 2010, when House Republicans won 62 percent of the white male vote, according to exit polls.
That improvement explains why the poll shows Democrats even pressing an advantage in the South, 47 percent to 38 percent. By contrast, Obama loses to a generic Republican by five points, 46 percent to 41 percent, in the South.
The real question though is what this will mean for candidate recruitment efforts. Democrats feel about their chances to retake the House seat won by Mary Ann Buerkle in the Southern Tier–Dan Maffei, who lost in 2010, is running again, but so far haven't persuaded others ousted in 2010 to try again. John Hall, who lost to Nan Hayworth that year, has already said he is done with politics for the time being; On Staten Island, Mike McMahon, who narrowly lost to Michael Grimm in 2010, seems to have ceded the spotlight to Mark Murphy.